Pulse-Eight Bringing USB HDMI-CEC Adapter to PCs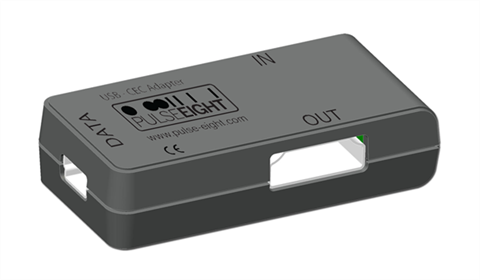 For the most part, support for CEC (Consumer Electronics Control) in home theater PCs (HTPC) has been terribly lacking. What is CEC you ask? Quite simply, it is a communications channel and protocol utilized in HDMI that allows functionality such as controlling power and volume of a connected TV among other things. You may have heard of it in a manufacturer's trade name such as Anynet+, Bravia Sync, SimpLink, VIERA Link, etc.
Pulse-Eight, the company who recently brought us the Motorola Nyxboard Hybrid XBMC remote, is now unleashing a USB to CEC bridge adapter for use in HTPCs. A USB port is used to supply power as well as inject and receive CEC commands on the HDMI link passing through the device. While we have seen similar devices before, Pulse-Eight is bringing with it an attractive sub-$50 price point along with support baked into XBMC and an open-source library called libCEC which is offered to bring the CEC functionality to other software platforms such as Windows Media Center or SageTV.
The USB-based CEC adapter can be pre-ordered now with scheduled shipments starting September 26th.
NOTE: This item is a pre-order we are shipping from the 26th of September 2011

What is CEC?

CEC (Consumer Electronics Control) is the control protocol found in HDMI. If you've not heard of CEC, you may have heard of it in another form, Sony call it Bravialink, LG call it Simplink and Samsung call it Anynet+

These are all the same system essentially and our adaptor allows your HTPC to join that communication channel.

Why don't I already have it?

Almost all graphics cards do not support CEC in any form, and others only in a limited form. This device allows XBMC and libCEC to access the CEC communications link and send and receive control messages.

What does it give me that I don't already have?

The USB – CEC Adapter allows XBMC to turn your TV and other attached equipment on and off (if they support HDMI CEC) adjust the volume or eject the disk from a drive. Start playback etc.

Likewise these same devices can tell XBMC what to do, for example, your TV remote can also control XBMC, or vice versa. With this device you can move that step closer to a clutter free living space while maintaining simple remote control for friends and family who may not be familiar with all of the features of a professional remote control.