New SageTV Extender: HD Theater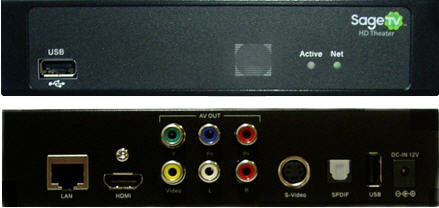 The HD 100, SageTV's previous generation of extenders, was widely regarded as one of the best in the industry for commercial PVR programs. The HD Theater is the next generation extender from SageTV improves upon the old one in a few areas.
Same $200 price point
Advanced codec support (H.264 up to 1080p). No mention of container support. Let me know if MKV and MTS file formats are supported.
No mention of new audio codec support such as DTS-HD
Stand-alone media center (USB ports in front and back)
Much smaller foot print then previous generation
No fan
All in all, a nice incremental addition to the previous generation extender, though nothing legendary. I hope to see some reviews trickle in :). Click the picture below for the product page.
UPDATE – We have one on order, so plan to see a review once they ship.
UPDATE 2 – PDF user manual
SageTV HD Theater Specifications
Video format supported: MPEG1, MPEG2, MPEG4, H.264 up to 1080p, AVI, VOB, WMV9/VC-1 up to 1080p
Audio format suppported: MP2, MP3, AAC, WMA, Vorbis (stereo only), AC3 (stereo down-mix/pass-through), FLAC, DTS (pass-through)
Video Outputs: 1 HDMI, 1 Component, 1 Composite, 1 S-Video
Audio Outputs: Left/Right audio output and optical S/PDIF
Maximum Number of SageTV HD Theaters: Limited only by your home network bandwidth, each HD video stream may use 20 Mbps or more of home network bandwidth.
TV Set Requirements:
HDMI, Component, Composite or S-Video input (NTSC)
Left and right audio input jacks, optical or HDMI audio input
Network Requirements:
One 10/100 RJ-45 port on a Router, Hub or Switch network with DHCP server on network

or

Direct connect from SageTV HD Media Extender to PC running DHCP server via cross over LAN cable (not supplied)
Included with the SageTV HD THeater:
SageTV HD Theater digital media receiver
Remote control with batteries
1.5 meter A/V cable set
S- video cable
HDMI cable
1.5 meter Ethernet cable