MissingRemote.com HTPC Build Guide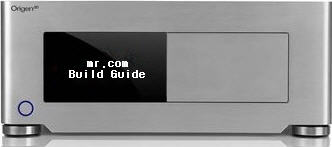 Sometime ago, we had a few readers request an update to our build guides we published shortly after we started the site. I will remind our readers of a couple important points. Ultimately we pick a piece of hardware because we feel it offers the best bang for the buck. I would imagine that there will be a lot of people that disagree with our specific choices but we hope the guiding philosophy we lay out in our guide helps you build a successful HTPC. I simply won't pick a piece of hardware and say use this because I am damn smart. Instead, I hope to provide that reader with an understanding of what we are trying to do and he/she should be able to apply that to the hardware you are interested in.
As well, keep in mind there are a many configurations and uses an HTPC can take. As such, I am going to try and tackle a few different builds based on budget and network topology.
Intro & Rules
Introduction
Part 1 of our build guide is going to focus on the all-in-one stand alone system. In times gone by, building a stand alone PC used to be about the only method you would see DIY and OEM builders apply. This build assumes the majority of your day-to-day media center functions will be handled by this single HTPC.
Though an infinite (I know, not really) number of hardware combinations exist, we have settled on three budget ranges to get things started. The first price range will be a budget box which I consider the cheapest box I could build that looks good, is quiet, and performs all the duties required.
Rules & Regulations
It is a pretty good assumption to make that a stand alone HTPC will be out there for the entire world to see including, perhaps most importantly, your significant other. As such, it is recommended that your system fit in with your home theater components and, of course, be as quiet as other components in your rack. WAF, Wife Acceptance Factor or perhaps a more appropriate version: SOF, Significant Other Factor, plays a big role in this project.
We are not aiming any of our builds to be a gaming monster. Most of the recommendations we make, save for the most expensive one, will NOT play modern games at 1920×1080 resolution. I will reserve a small section to talk about widescreen gaming later in the article. For the most part, heavy gaming requirements run counter to cool, quiet, and efficient HTPC build requirements.
At a minimum, any of these builds will qualify as a dual-tuner DVR. As well, you can count on this system having an appropriate amount of power to handle any media playback.
To be clear and easy to go out and build today, this guide is limited to parts that are currently available from popular online vendors. One notable exception here is Hauppauge's HD-PVR. Though not on the market, it is going to be quite hard not to recommend (more details on the HD-PVR later).
My recommendations will encompass suggestions for both the AMD and Intel platforms.
Rather then adhere to a particular budget, I decided to go out an build three HTPCs that made sense from a hardware standpoint and use those as my numbers. It is a pain to arbitrarily pick hardware based on some random round magical number of say $1000. Instead, hardware that represents good bang for your buck and a solid upgrade path will be picked.
Budget Build
Budget Build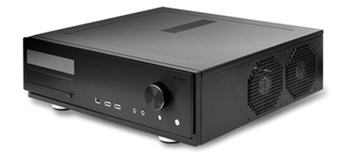 Tipping the scales at over $800, it is not too easy to call this a budget build. However, when you consider that a specialized case, tuners, and a larger then normal hard drive are required, it is not hard to see why a DIY HTPC build is not a cheap PC 'eMachines type' of prospect. A lot of people get their start by piecing parts together from older machines. If you take away the case and other specialized equipment, it easily comes in at under $500. Does this make you think of retrofitting an older mid-tower case that you can hide in a cabinet beside your TV? Good, that's how a lot of people go after it and I applaud them for this kind of effort and creative thinking around budget problems.
As I eluded to above, a couple of ways around a high price tag is to use what you already have. Did you recently upgrade to a quad core CPU and have a perfectly good older dual core CPU and motherboard now just lying around? With a video upgrade, a case, and some storage upgrades, you could have a perfectly great HTPC to use. Perhaps looks aren't a concern and you have a mid-tower case that can be stuffed out of the way. Great! Buy a few hundred dollars in parts with the advice given below and you should be good to go.
For the budget build, I will spend a little extra time explaining a bit about what to look for on each component. As we move to the higher end builds, I will shorten up the explanation a bit and talk only about the specific hardware component.
Motherboard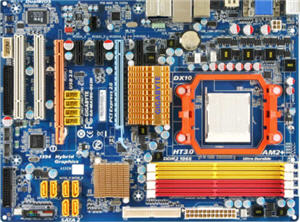 The motherboard gets the nod as the lead-off hitter in this article. This is mainly due to my graphic card selection for the AMD build and how it ties into the rest of the article. Taking a step back, I want to talk a bit about what features you should be looking for. Since there are no glaring performance issues with modern chipsets, you should take a look at what expansion capabilities you require for your build.
As of my last count, I have 7 USB peripherals hooked up. Do a mental count of what you are currently looking at and add a couple for future expansion. Also, consider your storage needs. If this is truly a stand-alone HTPC that houses a lot of TV recordings and other media, you may want to consider the amount of SATA / eSATA ports the motherboard will have. Firewire, onboard Wi-Fi, optical S/PDIF out, and PCIe slots are other options that maybe crucial to your setup.
A huge problem in the past has been noisy chipset fans. Though not so much these days, there is the occasional motherboard that employs an active 40mm fan to keep things cool at the expense of quiet operation.
On the audio side, we plan on using the integrated audio with each build. As Blu-ray software advances, we will dedicate an article discussing what your options are.
AMD –
As I eluded to earlier in the article, the AMD platform is particularly attractive due the availability of integrated graphics with advanced video decoding acceleration. What can only be dubbed as nearly the holy grail of HTPC chipsets, the ATI/AMD 780G chipset can completely offload both H.264 and VC-1 video compression schemes used in Blu-ray discs. Without this hardware decoding, even the fastest quad and dual core CPUs can expect CPU utilization higher then 60%. Smooth playback is finally an attainable goal with cooler running lower power CPUs.
For this reason, we chose the Phenom compatible Gigabyte GA-MA78GM motherboard based on the 780G chipset. A couple of notes I do want to make about this board. Your PCIe and PCI expansion slots are limited to two a piece. I don't believe this to be a concern in the age of USB peripherals. As powerful as the integrated graphics are, don't go expecting amazing frame rates, though 720p gaming is certainly not out of it's realm. Think of it as a way to enjoy some WOW on the big screen when your significant other is away.
The other notable point is that the HDMI out only carries S/PDIF audio. What does this mean? If you want to hear the new multi-channel lossless audio from your Blu-ray discs you are going to have to use the analog out of the onboard chipset or be content with DTS and Dolby Digital via S/PDIF or HDMI. The onboard audio supports DTS Connect, for real-time encoding of multi-channel audio sources into standard DTS, making a bit of light gaming more intriguing, since the positional audio will be maintained.
All the other goodies including eSATA, 8 USB ports, Firewire make this a great motherboard option.
Intel –
We are limited to Micro-ATX due to our case choice. As such, I would recommend ASUS' P5E-VM HDMI Intel G35 motherboard. I am a bit hesitant to recommend the IGP in this board as I don't think Intel has ironed out the issues with Blu-ray video acceleration, not to mention the fact that the G35 doesn't offer very much video acceleration in the first place. Some people have it working PowerDVD Ultra, but not in ArcSoft Total Media Theater, etc. With a video card such as the ATI's 3450, you should have no problems with all media playback and still maintain a low budget.
For the most part, all the goodies are present here. However, you will have to go without eSATA, and if you wanted eSATA this can easily be fixed by a $10 adapter which routes one of your internal SATA ports from the motherboard to a slot plate.
CPU
The latest generation of CPUs from Intel and AMD seem to have no problem running cool and subsequently quiet when paired with the right cooler. Intel's Core 2 Duo line, including their latest E8x00 series based on the 45nm process, run exceptionally cool. Quad-core CPUs tend run a little hotter but with the appropriate aftermarket heat sink you shouldn't run too hot even in the confines of a smaller HTPC case. We won't even consider the high end quad-core CPUs from AMD (Phenom 97×0/98×0) and Intel (Core 2 Extreme series) for this build, as these run far too hot and really nothing a standalone HTPC does requires that kind of power.
AMD –
Sometimes we have to make a compromise on cool versus raw performance in an HTPC. In this case, we will be choosing the Athlon X2 4850e. AMD recently started to redo their CPU naming scheme to fall in line with the Phenom scheme. There are a lot of numbers in there, but what 4850e tells us is that this is a 2.5GHz CPU that is built on the Athlon 64 X2 architecture, and the "e" on the end tells us it's an energy efficient varient. The 4850e is basically a lower power version of the Athlon 64 X2 4800+. You do pay a premium for the 45 watt TDP versus the standard X2's 65 watt TDP.
A second very attractive option should be appearing this summer in the form of a low power Phenom quad-core CPU named the Phenom 9150e, it has a 65 watt thermal design, and unlocks the full potential of the AMD 780G's video abilities. Since the Phenom series uses the new Hyper Transport 3.0 link found on AM2+ motherboards it provides more bandwidth for the integrated video and CPU to communicate, this boosts not only 3D performance but also enables the 780G to post-process 1080i video properly.
| | | | | | | |
| --- | --- | --- | --- | --- | --- | --- |
| Series | Price Range | HyperTransport version/frequency (GHz) | Total L2 cache | Cores | TDP | Process |
| Athlon 64 X2 3600 to 5200+ | $70-$110 | HT 2.0/1.0 | 1 MB / 2MB | 2 | 65W/89W | 65nm/90nm |
| Athlon 64 X2 5400+ to 6400+ | $115 – $165 | HT 2.0/1.0 | 1 MB / 2MB | 2 | 89W – 125W | 65nm/90nm |
| Athlon X2 4x50e (formerly the BE series) | $70 – $90 | HT 2.0/1.0 | 1 MB | 2 | 45W | 65nm |
| Phenom X3 8×50 | $150 – $200 | HT 3.0/1.8 | 1.5 MB | 3 | 95W | 65nm |
| Phenom X4 9150e | expected to be ~$150 | HT 3.0/1.6 | 2 MB | 4 | 65W | 65nm |
| Phenom X4 9×50 | $200 – $250 | HT 3.0 1.8 Ghz/2.0 | 2 MB | 4 | 95W – 125W | 65nm |
Intel –
Intel has a LOT of budget CPUs that are worth considering. In fact, it can be a little mind boggling to look at Intel's CPU lineup and understand what characteristics of the CPU can affect performance. The first two characters of the CPU name gives a clue to its specifications, here is quick summary of what's available today:
| | | | | | | |
| --- | --- | --- | --- | --- | --- | --- |
| Series | Price Range | Bus Frequency (MHz) | Total L2 cache | Cores | TDP | Process |
| Pentium Dual-Core E2** | $70-$85 | 800 | 1 MB | 2 | 65W | 65nm |
| Core 2 Duo E4** | $120 – $150 | 800 | 2 MB | 2 | 65W | 65nm |
| Core 2 Duo E7200 | ~$135 | 1066 | 3MB | 2 | 65W | 45nm |
| Core 2 Duo E6** | $160 – $200 | 1066/1333 | 2/4 MB | 2 | 65W | 65nm |
| Core 2 Duo E8 (replaces E6** family) | $190 – $220 | 1333 | 6 MB | 2 | 65W | 45nm |
| Core 2 Quad Q6** | $225 – $300 | 1066 | 2×4 MB | 4 | 95W-105W | 65nm |
| Core 2 Quad Q9 (replaces Q6** family) | $280 – $350 | 1333 | 2×3 MB / 2×6 MB | 4 | 95W | 45nm |
As you can see by the table above, the CPUs on the lower end of the budget have their FSB and L2 cache neutered a bit. It is worth noting that some applications are more dependent on raw speed rather then L2 cache. The recently released E7200 hits a nice sweet spot with cache and FSB that make it a very attractive option for budget builds. In fact, if I were to recommend a budget buster for this build, it would be this CPU.
For this build, we will be recommending a Pentium Dual-Core E2200 to maintain price parity with our AMD selection. Don't let the "Pentium" in the name fool you, you'll notice the product numbering scheme falls in line with the rest of the Core 2 Duo family, that's because the Pentium dual-core is really a low budget version of the Core 2 Duo family, with all the advances and excellent performance per MHz the rest of the Core 2 family have.
Case
The two main characteristics that make a case desirable are easy to remember but, as case manufacturers have learned, are hard to put in practice. Even the noob of noobs knows that I am talking about aesthetics and noise. Not only must the cases blend in with your home theater, you have the tight confines of a desktop style case to shove a bunch of hardware in and keep it quiet and cool. Not easy, but thankfully designers have stepped up to the challenge to create cases that look and sound like they should be part of your home theater.
If you plan on an expansion heavy HTPC with a load of PCI cards, high power CPU, and a few hard drives, you will want to take a look at a case capable of housing a full-ATX power supply and motherboard with a number of large fans (80mm or larger) to keep things relatively cool and quiet. As we all learned in HTPC 101 you took at your community college, a larger fan will move more air per decibel then a smaller fan.
Other things to take into consideration are other types of noise isolation the case may offer. Hard drive grommets are a biggy and found on many cases designed for HTPC use.
Due to the number of peripherals that are USB rather then internal expansion cards, we can be safe with using a micro-ATX setup. In this case, we have chosen the Antec Fusion version 2 that comes equipped with an 80-Plus certified 430 watt power supply. This case was developed by Antec with the help of Silent Mike from SilentPCReview.com (A great website on silent computers). I am not a huge fan of the iMon LCD/IR solution BUT it does the job.
The case has a triple chamber design which isolates your power supply from the rest of your build. This has the benefit of having the PSU drawing only fresh air with the result of a slower running PSU fan. On the side of the case, there are two 120 mm fans that use the unique case structure to draw air across the motherboard components including the CPU.
CPU Cooler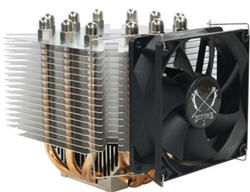 Again, we realize that bigger is usually better. However, HTPC cases typically limit the height of the cooler we can work with. Monster towers are not an option as they are for a mid-tower. However, with the advent of heatpipes, you can pack a lot more cooling punch into a smaller package.
I have chosen the Scythe Mini-Ninja tower CPU cooler for this particular build. Scythe built this cooler for lower profile cases such as the Fusion from Antec. It comes with mounting hardware for nearly any recent generation of Intel and AMD CPU. Due to the proximity of the CPU to the 120 mm fans in the Antec case, there is a good chance you will be able to remove the 80mm fan entirely and passively cool your CPU. Standard disclaimer: If do you choose this route, monitor your temps closely.
Memory
There isn't much to say here. Any brand of reasonablely low latency, stable memory will do the trick. I typically stick to the brands I know and trust such as Corsair and Crucial.
In this case, we will be using a dual-channel kit of 2x1GB sticks of Corsair XMS DDR2 800 RAM for a total of 2GB of memory. Corsair has great support and have been putting out top notch memory for years.
Hard Drive
A lot of manufacturers have made subtle hints in the past about catering to the quiet computing niche market. Seagate was a contender for a couple of years, but have since dropped the ball, and Samsung carried the torch for a couple more. Enter the world of 1TB drives and dropping hard drive prices; we find ourselves with a new leader.
Western Digital has specifically created a line of drives "dubbed" Green Power. However, with great quietness comes with knowing that it only runs at 5400 RPM. This is a compromise that is required for a quiet build. If you are a little more tolerant of noise, you may want to look at WD's new 640GB drive that has great noise and power draw characteristics, plus the boot time is better since it's 7200 RPM.
What does the WD 640GB net you? The below calculations assume you have 550 GB available for media storage after installing your OS and programs.
HDTV: ~70 hours
SD: ~140 hours (perhaps a bit more depending on recording quality)
DVD: ~70 dual-layer DVDs ripped in full.
Blu-Ray: 11 dual-layer Blu-ray discs or 22 single layer Blu-ray discs.
Tuner Card
I highly recommend taking a look at our guide section before buying a tuner card. We have a few guides that will point you in the right direction depending on what you are trying to do. I am really not trying to pimp our own articles, it's just that I can't do this topic justice in the confines of this article.
I will present a couple of the popular options with a couple of the popular software programs. I know I have missed a lot of potential combinations of cards and software. If you have a specific question, feel free to ask 🙂
Vista Media Center/BeyondTV
Since this is a DIY article, I can't talk about digital CableCard tuners

However, I do get the pleasure of talking about a couple of the options that are on the market that can help fill the void. The HDHomerun is a network based tuner that can tune either OTA broadcast HDTV or QAM. This is about the best way to get your HD fill. HD channels available via QAM change from area to area and you may only get your locals OR you may get a significant portion of your HD lineup. It is a gamble.
AVerMedia's latest tuner cards, namely the Bravo Hybrid and Combo M780, have beta QAM drivers. However, with anything beta, you may get the short end of the luck stick. However, as a OTA HDTV/Analog card they work just fine. As well, Hauppauge and VistaView are both companies that have well supported Combo cards.
SageTV (and GBPVR)
SageTV has support for every card mentioned above but has an ace up its sleeve. SageTV supports QAM from AVerMedia and Hauppauge's latest tuners cards (M780, Hauppauge HVR-1600/1800, etc). Sage has tapped into the QAM capabilities of their cards without resorting to special utilities or other such hackery.
Over a grand but under a fortune
Over a grand but under a fortune
The budget build has some compromises and you may be left wanting just a bit more from your HTPC. This particular system is set to fulfill those dirty HTPC desires you have hidden deep within your soul. Around the computer building world, the phrase "bang for your buck" gets beat like a dead horse with a beatin' for free sign on it. I am not a proud person and as such I am going to slap the bang for your buck label squarely on the ass of this fine HTPC.
Another geekier way to put it is to talk about the law of limited returns. The more money you spend, except in the storage department, you just aren't going to see performance gains increase at the same rate you spend money.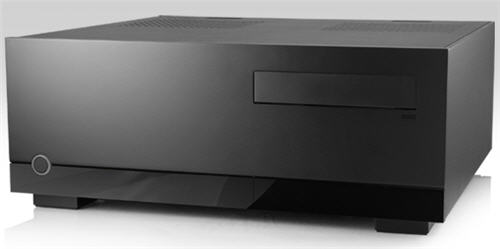 Motherboard
The Omaura TF-11 is a full ATX, as such we have the option of using a full ATX motherboard. In the case of the AMD build, we like the 780G so we kept it, but in this case it's on a full ATX motherboard from ASUS. This motherboard includes the integrated HD 3200 graphics chip, 6 SATA and passive cooling.
In the Intel department, I chose ASUS' rendition of the P35 chipset. It offers a plethora of storage options and everything is passively cooled. Again, we decided to use AMD's 3450 video card. Both AMD's 780 IGP and 3450 are budget solutions that offer advanced video codec offload.
CPU
Intel –
In most situations, you aren't going to notice the difference between the two and four cores. However, when you start to attach multiple extenders to a box and expect it perform encoding and other media duties, you can start to see where the additional cores would be beneficial. Keep in mind what uses you have planned for your CPU.
My preference would be to go with the Core 2 Quad Q9300 which is 4 cores and is based on the 45nm process. However, at the time of publishing this CPU is demanding quite the price premium over the roughly equivallent 65nm Core 2 Quad Q6600.
AMD –
The quad-core Phenom is a much better performer then its dual-core Athlon 64 predecessors in almost every respect. Though not as powerful as the Q6600, the 9550 is a power house and will handle pretty much anything you throw at it. I chose the 9550 over its higher speed siblings due to its lower thermal design of 95W versus 125W.
Case
This is my favorite part of the article. I get to recommend premium case with a great OLED display at a fraction of the cost of other premium cases. The base price of the TF 11 from the Dell retail outlet is a scant $229. Combine this with the OLED display, and you have yourself a great case that has plenty of quiet cooling and expansion options for both hard drives and PCIe cards.
Memory/Cooler
No change from our first part of this build guide. I chose Corsair memory, but any solid manufacturer such as Crucial will do just as well :). Off the top of my head, I can't think of a scenario where more then 2GB would be necessary. However, a couple of more gigabytes of RAM certainly wouldn't blow out this budget.
The Mini-Ninja is a solid performer and I see no reason to change parts at this point in the ball game. I might be tempted by a larger heatsink such as Ultra-120 by Thermalright. However, I don't think the price premium is worth it.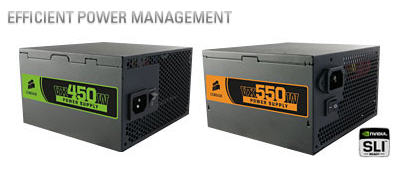 Power Supply
The efficiency of your power supply varies as your load increases and decreases it is typically at its peak at 40% to 60% of your maximum rated load. As well, depending on the fan controller, the fan will spin up when you reach loads greater then 80%. With this in mind, we felt the 450W would be the perfect size of power supply. A high quality 380W power supply would work just as well.
The Corsair branded power supplies custom manufactured by Seasonic for Corsair are easily in the top tier when it comes to efficiency and quietness. A couple of things stand out for this power supply.
As with most Corsair/Seasonic supplies, they stay above 80% efficiency for most of the load range.
As I experienced with the original Seasonic S12, the fan controller does a very good job of staying quiet until the higher end of its load range.
Tuner Card
At the time of publishing, we do not have first hand information regarding the HD-PVR from Hauppauge. What we do know is that it will ship mid-May 2008. It will take the component out from a source and encode it to H.264. It is expected that SageTV, BeyondTV and GBPVR will support this on launch. Media Center support is expected later this year, possibly mid-summer. We added a Hauppauge HVR-1800 to fill in the recording gaps when the HD-PVR is busy recording.
Is the HD-PVR a God send to DIY HTPC enthusiasts? It is too early to tell, but it certiainly looks like it.
Optical Drive
The Lite-On player, based on my experience is a relatively quiet player that will serve you well if you are a high-def movie buff. The software has matured to a point where you should have no problems the majority of the time. Do be aware that you will not get the same experience as a stand alone player. I would guestimate by late summer 2008 development should be far enough long that your experience will be close to indistinguishable from a stand-alone player. An alternative to the Lite-On player is LG's combo player that plays both HD DVDs and Blu-ray discs. You will only need this if you have a library of HD DVD discs.
High-end and Server builds
High End
If you are looking to build the ultimate HTPC, within reason of course, this is what I would suggest.
CPU/Motherboard/Graphics
The CPUs chosen for the AMD and Intel build simply represent a speed bump over the previous builds. As you pile on duties such as commercial skipping, encoding for placeshifting, HD playback and recording you should be thinking about CPUs in this price/performance range.
The 790FX motherboard for the AMD build represents the high end chipset for the AMD family. It comes with plenty of storage options, and even the option for dual ATI cards if you want to enhance your 1080p gaming experience. Just don't forget to move up to a CrossFire certified PSU if you want to use two video cards like Corsair's HX620W.
Nothing has changed from our previous build in the Intel motherboard department.
With the HD 3870 or 9600GT you should have no problem operating with a 1920×1080 resolution in most modern games. Don't expect to crank up the AA and AF with these cards but with games like Unreal Tournament III you should have no problem with all details on high. Though I am no longer a WOW addict, I did enjoy playing this on my widescreen in the past.
HTPC Specific Parts
The notable price increase comes from adding a second HD-PVR and another terabyte of hard drive space. With this build, you can be sure you have lots of tuners and hard drive space available for multiple extenders and recording multiple shows.
I am torn between the OrigenAE and Omarua cases for looks and function and since we are spending a few more dollars here, we can afford to go with the OrigenAE S16V. The curved lines of this case make it one of the nicer looking cases on the market and they have done their homework when it comes to noise isolation and cooling function. You can check out my review here.
For more information on the HD-PVR, check out Hauppauge's product page.
Server/Extender Build
Building a server requires a little bit of pre-planning as you don't want to short change yourself when you have multiple CPU intensive tasks that maybe perfomed. This particular build starts to look alot like our HTPC builds minus the more expensive HTPC'centric cases.
Do keep in mind that there are limitations with every Server/Extender setup. If you are planning on going a specific route, please post in the forums about your intentions and we can help you maximize your investment. One quick example is that you are unable to stream DVD rips from a Vista Media Center server to Vista Extenders without some workarounds.
CPU\Motherboard\Graphics
It is pretty hard not to recommend a quad-core CPU when you start to consider the duties that may be involved at any given time. Consider the following family scenario:
One person watching live TV on an extender.
One person is watching a high definition recorded TV show.
You are in your office watching last night's Letterman.
Commercial skip processing is running on a recording that just finished.
You kind of get the picture that when a media center pc is at the heart of your digital home, CPU usage can become a critical part of your buid.
Again we go to ATI's Radeon HD 3450 for our graphics. We are not requiring much in the way of 3D horsepower but we will still have the option of watching Blu-ray discs on our server. One thing to keep in mind is that the server can act as an office box for basic e-mail and web browsing as long as the activities do not cause hiccups with media streaming and DVR activities.
Server Specific
At a minimum I would suggest a dual tuner setup. Here I went with a combo card to fill in the recording gaps when both HD-PVRs are busy recording. As you can see by the situation above, tuner availability can be a hot issue a server\extender type of setup.
Antec has several cases that would have fit the bill for this build. John has a couple of Antec Solo's in his setup and he is very happy with how they work in a media server environment.
Extenders
You can compare extenders to a CE device like a DVD player. You simply plug it in and it should work. Though, as with anything, extenders are typically firmware upgradeable. There are two major players in the extender markets these days.
The most well known extender platform comes from Microsoft in the form of the Xbox 360. The 360 has the Media Center extender software built-in and is generally considered the best extender for VMC when considering performance. Be prepared for loudness though, the 360's fans are rather loud. D-Link and Linksys offer CE-like extenders but since these are embedded solutions (with less muscle then the 360) they suffer a bit when rendering the Vista Media Center animations. Naturally, these extenders do very well in the quiet and cool categories.
SageTV, a scrappy up and comer, have come out of nowhere to develop their own HD Extender system. The beauty of this two hundred dollar system is that it is quiet & cool, emulates the SageTV experience, and supports a WIDE range of formats including DVD streaming from a SageTV server.
Wrapping It Up
My major goal with this guide was to provide a set of guielines and hardware suggestions to help the novice and advanced HTPC builders. I hope my goal was accomplished and that I inspired at least one person to get an HTPC project going. Just remember to plan, plan, plan and plan a bit more and your build should go smooth as can be. If you have specific questions about your build, feel free to post in our forums. Be sure to be detailed about what you want to accomplish with your build.
Now that you have the basic hardware put together, there are a lot of other things to consider including things like home automation hardware, and of course what software you want to use.
You maybe somewhat sticker shocked after reading this article, so I thought I would link to this blog post about the Top 10 things you can do with your HTPC.