GoControl/Linear GD00Z-4 Z-Wave PLUS Garage Door Controller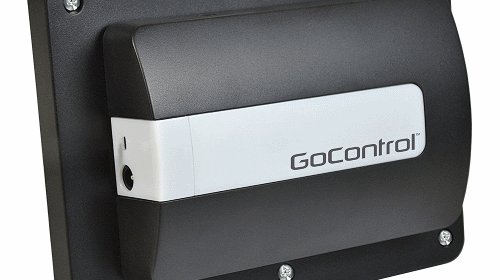 The first time I went crazy with Z-Wave at my house, I had to build my own garage door controller. It was not hard, involving a Z-Wave switch, some components from Radio Shack and a door sensor – all tied together with a couple scenes. As I am sure you all know, time has been very kind to the home automation (HA) enthusiast. So this go around it was possible to buy an off-the-shelf controller that includes everything I needed in a convenient package. There are even a few different options, although most seem to be rebrands of the $83 ($90 SRP) Z-Wave PLUS GoControl/Linear GD00Z-4 I selected.
Device
Smart Home is in. So it was not surprising that the GD00Z-4 is wrapped in a very retail friendly packaged. There is not much to note, except that I have seen some reports that Linear did not change the model number when they upgraded from Z-Wave to Z-Wave PLUS – so make sure to check that yours has the right (note lower right corner) logo printed on it.
The GoControl/Linear GD00Z-4 includes a nice/flat power supply, mounting bracket, tilt sensor, necessary hardware and a nice warning sign. The bracket and much of the hardware is optional. So how much of it you will use will depend significantly on your garage type.
Install
If you are like me, manuals are usually more as-a-last-resort than priority reading. Fortunately, instead screwing first and reading directions later; I just happened to break out the manual before the cordless drill. This was quite handy because the as it turns out, the pairing process works much better if conducted within a few feet of the Home Automation Controller (HAC). Interestingly, during the pairing process my VeraPlus indicated that my GD00Z-4 was reporting itself as a different model… Some must have forgotten to flip that branding toggle in the firmware; tsk tsk.
With pairing out of the way, I was only too happy to break out the ladder and get to work. Installation was quick and painless. Tilt sensor sticks to the top end of the door, and the main unit attached easily to one of the support beams near the garage door opener. The only complication was that the wires, that plug in alongside the normal hardwired controller were not stripped to the depth suggested on the opener. Sigh; nothing is easy.
Use
Once installed, the GoControl/Linear GD00Z-4 works really well either as a device, or part of a scene. There are a few niggles though. The main one is that the battery level in the tilt sensor is not surfaced through the device, so at some point it will stop reporting status unexpectedly. The others mostly revolve around the lack of parameters around the closing delay (five seconds) and the way it flashes the light when it does close. Although it appears that this is due to UL certification. Safety first!
Conclusion
All in, there is very little to complain about the GoControl/Linear GD00Z-4. It works well, is reasonably priced, and a helluva lot easier to install than the DIY switch+relay+scenes Goldberg machine I put together the first time I Z-Wave equipped my garage door. Sure like anything, there are a couple niggles, but they are inconsequential compared to the capability added to my home.
Pro:
Easy install process
Reasonably priced
Works really well
Con:
Closing delay isn't configurable
Doesn't report tilt sensor battery