Sewell Direct Ghost IR Extender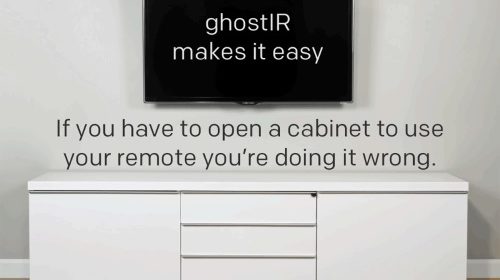 Infrared (IR) line-of-sight (LoS) is a cruel requirement, too often ignored by A/V cabinet designers and dismissed by the main furniture decision makers who "don't want to see" the kit that makes the picture box work. Of course, solving the control problem afterwards is usually someone else's responsibility; and chances are that since you're reading this – it's you. There are a few solutions available, including universal remotes that use RF for remote-to-hub communication with hub-to-IR blasters to manage the devices, but they are more expensive and more complex than a device like the $35 Sewell Direct Ghost IR Extender. Let's find out if this simple, battery powered extender can solve your LoS issues or if it's best left on the shelf.
Device
Conceptually the Sewell Direct Ghost IR Extender is quite simple. IR receiver on one end, connected to a blaster on the other, using a wire to bridge the gap between the outside world and the inside of the A/V cabinet. Both components are housed in a purple plastic shell with an adhesive mounting pad on the rear making it simple to manage the installation. The flat wire connecting them can be folded for a cleaner install as well, with a little piece of Scotch tape provided [at least with the review sample] to secure it. The Ghost IR Extender is powered by a CR2032 battery, and it is easy enough to pry apart the blaster shell to replace it – at least when it is not attached to something. I imagine that it might be quite a bit more challenging to perform this feat with it stuck onto an interior furniture wall; so plan accordingly, or stock up on double-sided-adhesive J.
Use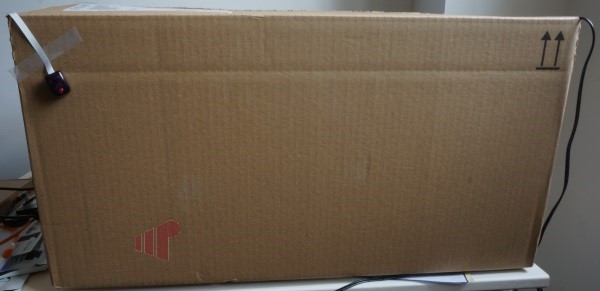 I don't have an enclosed A/V cabinet, so a sophisticated block IR with opaque exterior (BOX) testing environment was constructed to emulate this condition with several IR controlled devices placed within and the Ghost IR Extender installed to provide a conduit for control. To measure effectiveness fifty key presses were made on the various remotes with reception success/failure noted from a distance of 10-15' with the devices inside BOX. Then repeated with the media devices on the outside. There were failures in both cases, with a repeated press required, but the success rate (~95%) was consistent between scenarios indicating that the Ghost IR Extender's performance is consistent with native IR's performance.
Conclusion
If forced to choose between opening the A/V cabinet during use, or mounting a device like the Sewell Direct Ghost IR Extender I think the choice is obvious (much like the choice whether to use a remote control, or not). Coupled with a success rate similar to native IR, the only major concern that comes to mind is the $35 price tag. Which might be a bit hard to stomach given the hardware involved, but perhaps not so much when weighed against the daily trip to open (and close afterwards) the doors on your sleek furniture.
Pro:
Solves IR line-of-sight issues
Works as well as direct remote-to-device IR control
Con:
Price
Battery might be tough to replace when fully mounted
Thanks to Sewell Direct for providing the review sample.