NETGEAR R7500 Nighthawk X4 Smart WiFi AC2350 Router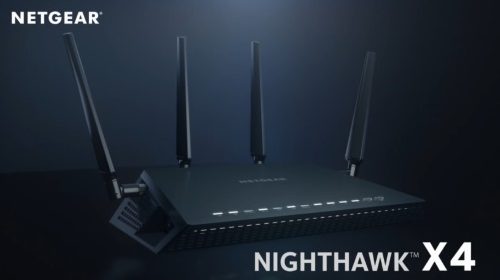 The pace of innovation in the 802.11AC space over the last couple years has been breathtaking. With the iteration from AC1750 -> AC1900, the main improvement was realized in 2.4GHz bandwidth, and not focused on enhancing the speed of the primary 5GHz radio. The recent release of "Wave 2" 802.11AC chipsets has changed this by adding features like Multi-user MIMO and a fourth stream; we now have 1733Mbps [theoretical] available, pushing us that much closer to what is achievable with a Cat6 wired network. Of course, these claims need to be tested so when NETGEAR offered up their new $270MSRP R7500 Nighthawk X4 AC2350 Smart Wi-Fi router, I jumped at the chance.
Device
Unboxing a Wi-Fi router is usually pretty mundane fare, and the NETGEAR Nighthawk X4 AC2350 wasn't that different. It is the first time I've run across discrete numbered antennas intended for specific mounts on the base, but this is purely cosmetic (I have to agree that it looks nice) so don't worry too much about remembering which goes where later. I also have to complain a bit about the power adapter, where the shape makes it difficult to share space on the wall or power strip without an extender.
There's no getting around the fact that the NETGEAR Nighthawk X4 AC2350's dimensions, 11.22 x 7.26 x 1.97 in (285 x 184.5 x 50 mm), which make it a large device. Two USB 3.0 ports and one eSATA are provided on either side for storage expansion, alongside five Gigabit Ethernet ports on the back. In router mode the yellow port is used for WAN (i.e. connected to the cable modem) and the other four for LAN, but when configured as a media bridge all five are available for LAN use. The R7500's chassis does get a little warm to the touch (30C top / 27C bottom), but nothing that would cause any concern. Dual orientation wall mounting is supported via dual direction slots on the underside. In the default configuration the status lights are quite bright, and quickly become a problem in a light controlled environment, thankfully there is an option both in the UI and via a switch on the rear to disable them all but the power LED. I didn't find it annoying enough to break out the electrical tape, but it is a bit baffling that NETGEAR did not silence that light as well for a true "stealth" mode. Power consumption was a very reasonable 8.4W when running without attached storage, and 9-10W after adding a USB 3.0 or eSATA disk. Switching speed was also quite competitive with 906Mbps LAN-to-LAN and 894Mbps WAN-to-LAN achieved in testing.
Setup
Initial setup was largely uneventful, and that is meant in a good way. Simply requiring an easy walk-through a wizard after connecting to the NETGEAR Nighthawk X4 AC2350 via wireless or cable – it even automatically updated the firmware to latest as part of the process. The only complaint noted was that the admin password was not reset during the first-run setup, which means that for most users it will remain conveniently set to "password" for forever – obviously a less than ideal situation.
The configuration user interface (UI) should be familiar to anyone who has played with a NETGEAR router over the last several years. It is functional, and there is a lot to offer both the technically, and less technically, inclined: including static DHCP assignment, port forwarding, quality of service (QoS), Guest Wireless, and Wi-Fi configuration; although I do wish it was possible to assign the guest network a different DNS setup from the main. In a broader context, the UI lags many competitive devices both in ease-of-use and speed. Frankly it feels a bit out-of-date, although I know that NETGEAR has plans to address this because it was keen to show off a modern, responsive UI at CES running on its upcoming AC1900 extender. Hopefully it also comes to the R7500. That said, as far as complaints go this one is quite minor–after all if everything is working properly there is little reason to spend much time poking around the configuration.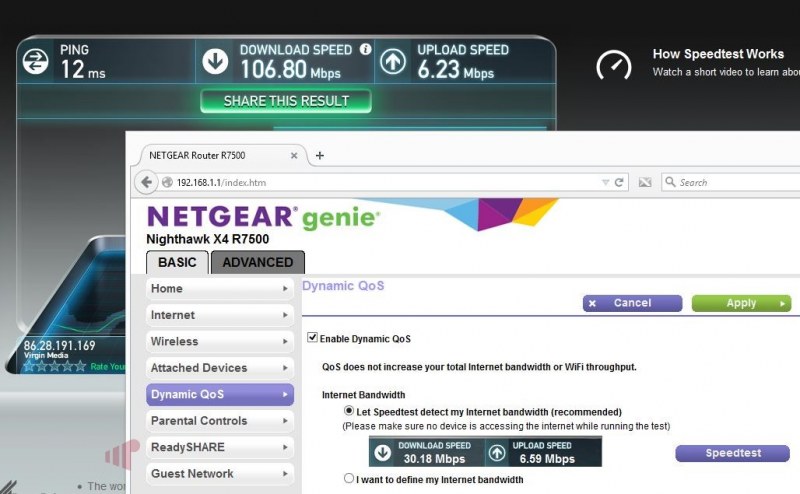 One of the more interesting features of the NETGEAR Nighthawk X4 AC2350 is its support for Dynamic QoS. NETGEAR was very enthused about it at launch because of its ability to use application specific profiles to assign priority based on available bandwidth and latency. In practice however, it was a bit hit-or-miss. First off, because it had a hard time reliably detecting the available bandwidth, but also because when enabled some services (e.g. Amazon Instant Video on my Samsung TV) exhibited issues (buffering, quality loss, etc.) not observed when it was disabled.
Use
The first thing that must be said about the NETGEAR R7500 is that stability was outstanding. There can be no argument that stability is the most important feature of a Wi-Fi router, and the device simply nailed it. No random reboots, no strange DHCP issues, no disconnects, even handling my trusty Cisco VPN which causes everything else trouble. As important as stability is, when you pay as much for a router as you will for the R75000 performance has to be there as well.
To test this, a large file was copied between two SSD equipped PCs connected to either side of the network with actual bandwidth collected every 500ms over the duration of the test and the average noted in graphs below. It is important to note that the distances in the graph above are not strictly linear, so while they are the indicated distance from the router each point represents a discrete location in a three-story brick house with cinder block internal walls; 1-20' on the first floor, 25-35' on the second, and 40-50' on the third with points 25' and 40' in the stairway landing on each floor (i.e. only one wall between the router and the client at these points).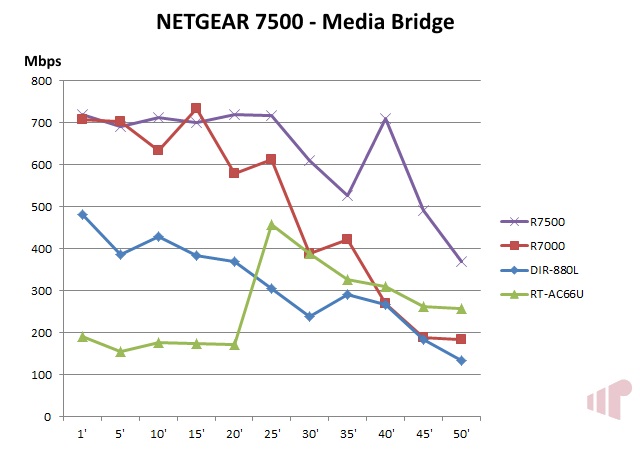 Looking first at performance as a media bridge, the NETGEAR Nighthawk X4 AC2350 clearly stands out. The R7500's fourth stream and Wave 2 features significantly extend both performance and range compared to even last year's top-end 802.11AC routers: 49% more at 50' than the R7000 for example. Clearly Wave 2 802.11AC brings something very exciting into the mix.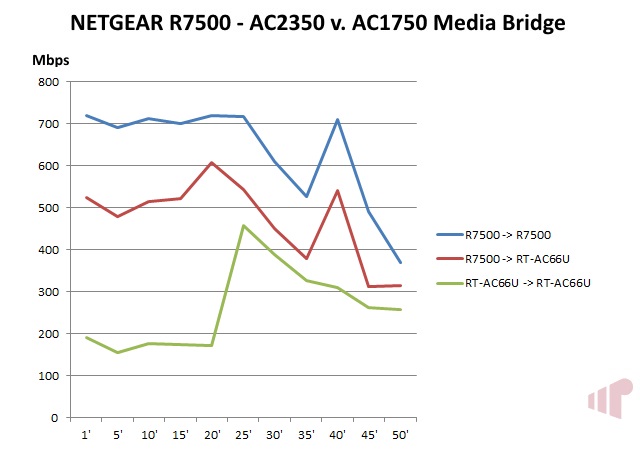 To examine the benefit to non-Wave 2 clients in a similar configuration an AC1750 ASUS RT-AC66U media bridge was paired with the R7500 router, tested, and contrast against the numbers shown previously. The results were quite interesting, with a clear delta demonstrated as we move from an all AC1750 configuration to a mixed AC2350/AC1750, and finally all AC2350.
Turning towards the PC client scenario, the benefits were much more mixed until reaching the testing limits where we can see a smaller drop off in performance starting around 40'. Some of this I think is a limitation of the Intel AC-7260 dual-stream nature, but is still important because most clients currently in the wild are not Wave 2 enabled. What is not captured on this graph though, is that the NETGEAR Nighthawk X4 AC2350 is the first Wi-Fi router to provide complete coverage for my house without adding a repeater/extender to the ecosystem.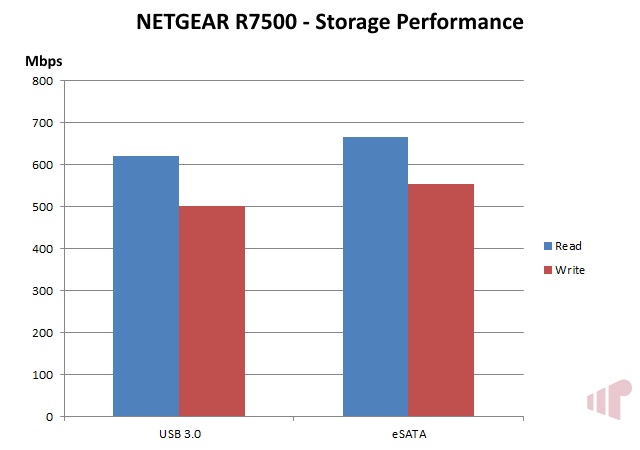 Support for external storage has become an important checkbox feature for high-end Wi-Fi routers, and the NETGEAR Nighthawk X4 AC2350 is no exception. The performance it provides here is quite exceptional providing roughly twice the throughput of previous generation routers and well into entry-level NAS territory.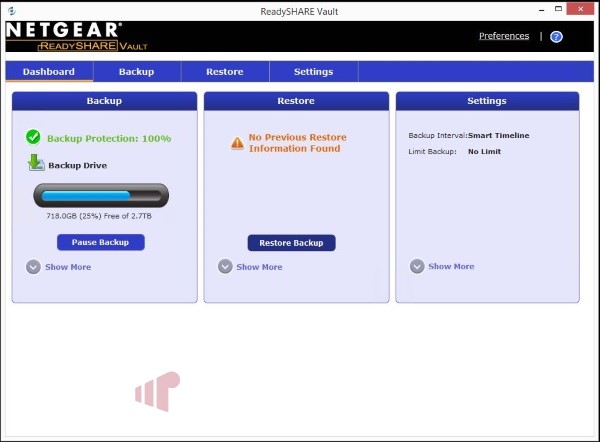 Making that storage uniquely useful, the NETGEAR Nighthawk X4 AC2350 provides an incredibly useful (and strangely unsung) feature called ReadySHARE Vault which provides point in time file backups for Windows PCs allowing you to restore files accidently deleted or modified. In a highly competitive market like this one, where there often aren't significant differences in the underlying hardware ReadySHARE Vault adds significant value to the mix. Also, because R7500 devices in media bridge mode also support attached storage, you have the flexibility to locate the drive where it makes the most sense for your network topology.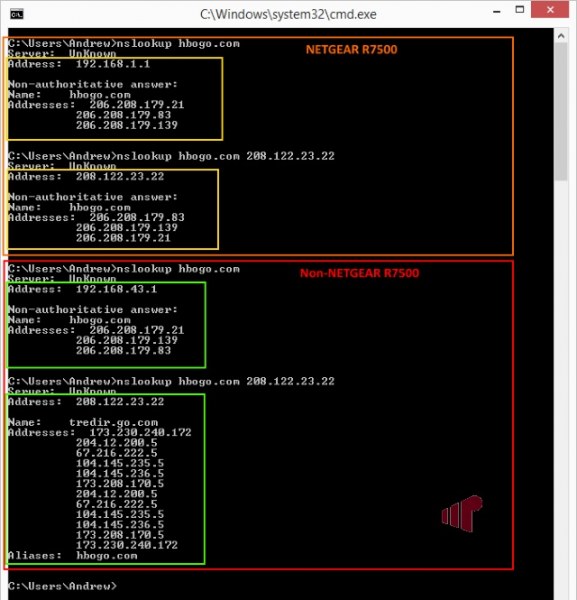 As stable and performant as the NETGEAR R7500 is, a potentially blocking issue was uncovered in testing where it overrides use of alternate DNS servers by clients on the network. How much of a problem this is will vary greatly with the intended use, most will probably never notice, but the R7500 should not behave in this manner without providing the option to disable it. I have reached out to NETGEAR for a comment on this "feature" (most likely a bug in the parental controls implementation), but have not heard back. The review will be updated when a response is provided.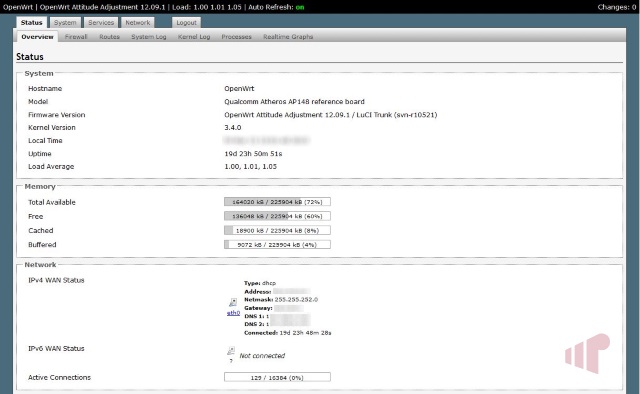 That said, OpenWrt—an open source Linux based router firmware — is an incredibly full-featured "work-around" to that issue and a host of other sure-wish-it-could-do-this limitations with the stock NETGEAR firmware. It is also fast, and stable, and tweakable in ways that I have yet to fully explore (even the most esoteric use-cases that I've come up with are possible with a little text file editing). While it's certainly not for the technically squeamish, it is fantastic that NETGEAR (via myopenrouter.com makes it as easy to get started with the platform.
Conclusion
As odd as it sounds, it's really hard to review something that just works, but that is exactly the category that the NETGEAR Nighthawk X4 AC2350 (R7500) 802.11AC Wi-Fi router falls into. It is the fastest Media Bridge and most stable router I have ever tested, and the first to provide full coverage in my house. Even the usual niggles around being too bright or "blinky", are mostly sorted with the switch on the back — although I do wish that the power LED could be disabled as well. Besides the problem with overriding client DNS the other issues noted are relatively inconsequential. Yes, the UI is slow and feels dated compared to other routers, especially at this price point $280/£230MSRP ($270/£170 street), and Dynamic QoS is a bit flakey, but that shouldn't take away from how well this Wave 2 router works overall, and for those looking for near-total control of the platform NETGEAR provides a direct path to OpenWrt.
Pro:
Stable
Fast Wi-Fi
Decent "NAS" performance
Status lights can be toggled via a switch
"WAN" port adds fifth LAN connection in Media Bridge mode
Excellent range
ReadySHARE Vault
Con:
Router overrides Client DNS
UI is slow and feels dated
Power LED is not togglable
Dynamic QoS needs work
Thanks to NETGEAR for providing the review sample