UPPER DESK Mobile Device Mounts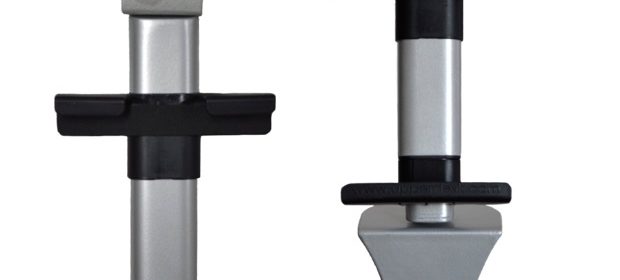 With the increasing reach of over-the-top (OTT) content on tablets and mobile phones, content consumption can follow us around the home in a way that a fixed location TV never could. Holding onto the mobile device isn't always convenient, whether it's because more than one person is viewing or because you're elbow deep in cooking, carving (my father often watches how-to videos in his shop), or simply don't want to hold it up for an extended period of time. This is where a mount comes in handy–but it needs to be portable, easy to use, and most importantly sensitive to the surfaces of the mobile device and mounting surface. Hoping to solve each of these problems UPPER DESK offers table and cabinet mounts promising convenience and flexibility; at $60 ($40 street) it's priced well enough that if they can deliver it just might be the perfect solution.
Device
The UPPER DESK mounts are made mostly from steel and plastic, with most every surface that will make contact with the device or fixture covered in a grippy foam which both protects against damage and helps hold the device in place. The clamp also uses foam on one side and a ridged hard plastic brace on the other. The metal in the clamp offers enough flex that getting a solid grip on the table or cabinet is quite easy ensuring that once attached everything stays where you want it and doesn't risk the valuable mobile device. An articulating screw holds the clamp to the tablet bracket making it possible to rotate the device to get the most convenient view. Pitch is not adjustable once the tablet is in place, but there are three fixed positions that provide this feature during placement.
Use
Five devices were tested with both mounts: a Microsoft Surface Pro 2, Dell XPS12, Nexus 7 (2013), Kindle HDX 7", and OnePlus One. In each scenario the devices themselves were easy to install and secure comfortably – even passing the can-my-kids-use-it test admirably. As a larger convertible, the Dell XPS 12 was a bit tricky to place in the natural orientation, but flipping it 180° sorted that out. Using the 7" tablets while in their cases took a bit more effort, as we can see in the gallery it entailed clamping the case instead of the tablet. Which, depending on the cases' design that would be acceptable (Nexus 7), or borderline (Kindle HDX). I was initially a bit put off by this (although to be fair, the ease by which the HDX comes out of the case minimizes the "pain" of removing it before use), but given by the wide variety of cases it would be incredibly difficult to design around it. I think the UPPER DESK mounts do a reasonable job of managing the compromise.
There were a couple complications noted when testing the mounts around the house; the most severe being the cabinet one in the kitchen where my cabinets have molding along the bottom making it impossible to close the door after attaching the mount. The other was with our dinner table which has very tall side support. Again, I think it's one of those things where some compromise is required because of the difficultly in supporting everything. Just make sure to have a look at the desired attachment points and ensure that it will actually fit (I've never noticed the molding before :)).
Conclusion
After spending some time with the UPPER DESK table and cabinet mounts it was clear that they are sturdy, well-made and support a wide array of tablets. While it would be nice if there was a bit more flexibility with support for encased devices, I can see where this would quickly get to an unsupportable state so it is hard to complain too much on this point. In fact, there is so little to complain about even this point seems more niggle than real issue. The mounts simply work, and at $60 MSRP ($40 street) are cheap enough that even if use is infrequent it's easy to see the value in your home.
Pro:
Well-made and very sturdy
Supports a wide array of tablets in various sizes
Easy to install and operate
Con:
May need to remove tablet case
Thanks to UPPER DESK for the review samples.