NETGEAR R7000 Nighthawk Smart AC1900 Wi-Fi Router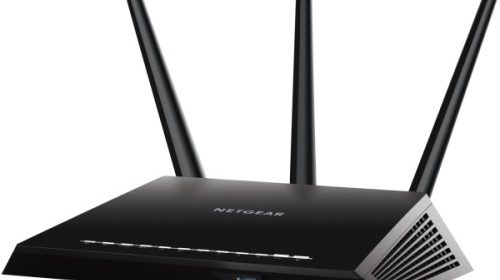 Nothing can deliver the raw capability of Gigabit Ethernet when it comes to pushing large amounts of data around the home. Unfortunately, in many homes it just is not practical to pull Cat-6 through the walls, so other methods must be found to enable the demands of a fully functional media consumption network. Where many other low-installation-effort home networking technologies have failed, 802.11AC's 1300Mbps of theoretical bandwidth is tantalizing. With more than enough headroom to deliver stutter free streaming it holds tremendous promise, but whether the technology can really deliver was still open even after our first look. Today we have another chance to examine it however – this time with NETGEAR's $199 Dual-band AC1900 R7000 Nighthawk Smart Wi-Fi Router. The R7000 is particularly interesting not only because its dual-core 1GHz processor and USB 3.0 support represents the current state-of-the art in Wi-Fi appliances, but because the underlying Broadcom 4709 Communication Processor (which makes that possible) marks a shift from MIPS to ARM for this market segment. Of course that change is only meaningful if the R7000 can deliver the stability, feature set and performance demanded by the home media enthusiast.
Device
The NETGEAR R7000 Nighthawk's packaging does not conceal the router's girth, the box is large and it is large (285mm x 184.5mm x 50 mm) – easily the biggest device of this type that I have seen. Inside the box, we find everything necessary to get started; including three antennas, Cat 5e Ethernet cable, power adapter and instructions. A vertical mounting stand was notably absent however.
Some assembly is required to attach the three antennas to the back of the R7000, but that is a happy trade-off because this is what enables three streams of 802.11AC, getting us to 1300Mbps. The R7000 is classed as an "AC1900" device, which can be a bit misleading (although to be clear, this is not NETGEAR's doing), because while the value correctly indicates the total theoretical bandwidth available from both of the device's dual-bands – 1300Mbps 802.11AC (5GHz) and 600Mbps (2.4GHz) – they do not sum in application. Each band is limited to its own maximum capability, and to realize the full potential from the 2.4GHz radio each device must implement Broadcom's TurboQAM technology.
A 1GHz dual-core Broadcom 4709 Communication Processor powers the NETGEAR R7000, but unfortunately after disassembling the chassis it was not exposed because of the metal shielding that surrounds it. There is a large heatsink on the underside of the motherboard which makes contact with what I assume is the 4709 via a thermal pad. The R7000 provides five Gigabit Ethernet (four LAN / one WAN) and one USB 2.0 ports intermingled among the antennas, power input, on/off and reset switches on the back. The USB 3.0 port is located on the front. I would have preferred that all of the I/O was consolidated on the rear of the R7000 because it makes wall and vertical mounting easier.
Having grown accustomed to disabled LEDs I expected to find the front lights abrasive, but while they do create some light the intensity is managed well enough that it is not too bad, even in a dark environment. It would be great to see NETGEAR add the ability to disable them, but obviously that is also something solved quite easily with a little electrical tape.
Use
Setting up the NETGEAR R7000 Nighthawk as a router was effortless; just plug it in and let it detect the network. In a simple, router only, installation it only takes a couple minutes to go from plugged in to Internet. The R7000 can also act as an Access Point (AP), Wireless Repeater, or Media Bridge (MB) but unfortunately selecting one of these modes is not as straight forward without some familiarity with the browser based user interface (UI) provided. Also, because the Wireless Repeater mode only supports very basic security methods it should not be used in most scenarios. Of the three, MB is the only one that requires a detailed explanation because the implementation is not always consistent across vendors. With the R7000 either radio (2.4GHz or 5GHz) can be used to enable the MB to connect to another wireless network as a client. Each device connected to a LAN port is passed through as a wireless client as well (i.e. the router sees each device's MAC and represents it as Wi-Fi connected), but while the WAN port is active it is not enabled on the LAN. Also, whichever radio is not used to create the bridge is disabled – it would be nice if the unused radio acted as a separate AP to better utilize the hardware.
Compared to competitive makes, the UI is a bit plain and does not facilitate feature discovery as easily. For most users this is not a particularly onerous challenge, but I suspect that the less adventurous will struggle with some aspects. That said both the 9.5W R7000 router and MB performed very well in performance, range and stability testing conducted over three weeks never getting more than electrical-device-is-on warm to the touch. With only two issues were noted over this time: first, users hoping to connect some mobile 5GHz devices (e.g. 2013 Nexus 7) may need to change the default channel to 48 because of limitations with those devices and second, a Cisco Systems VPN would periodically lose connection requiring the MB to be restarted.
I really enjoy the recent trend in pushing home Wi-Fi routers beyond their traditional domain into "network appliance" territory, and this is a place where the NETGEAR R7000 Nighthawk excels. Like many high-end routers it offers basic NAS, remote file access, and print server capabilities via connected USB devices. Where the R7000 stands out is with ReadySHARE Vault client backup software; which provide full file-based point-in-time backup and restore. The software is simple to setup, runs as a system tray application monitoring files and synchronizing the changes as they occur back to the attached hard drive. In a competitive landscape where there is not much difference in the underlying hardware, this software feature is key point for selecting the R7000 over anything else.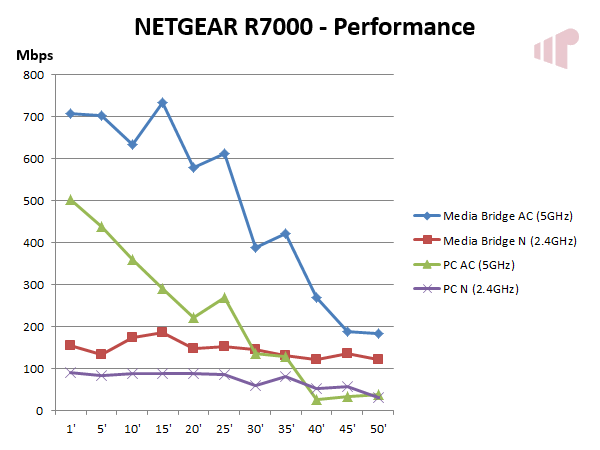 Taking a moment to explain the conditions represented in the graph above, it is important to understand that distance is not strictly linear. So while each of the testing points are the stated distance from the router, they represent discrete locations in a three-story brick house; 1-20' on the first floor, 25-35' on the second, and 40-50' on the third. To test actual bandwidth, a large file was copied between two SSD equipped PCs which were connected to either side of the network via Gigabit Ethernet when testing MB performance, and Gigabit Ethernet in one PC and an Intel Dual Band Wireless-AC 7260 adapter when testing client performance. The data points represent average bandwidth over five minutes at each location. 
As noted previously, the 1300/600Mbps are theoretical, so it was not surprising that the actual values were quite a bit lower. That said, the NETGEAR R7000 Nighthawk delivers very impressive real bandwidth – especially when used as an 802.11AC media bridge. Peak average bandwidth was 733Mbps at 15', and even when moving out to 50' on the third floor the R7000 was able to deliver 183Mbps – well above the 100Mbps required for streaming high bit-rate Blu-ray ISO. While still not a perfect substitute for hardwired Gigabit Ethernet, the R7000 can met all but the most demanding bandwidth requirements with the ease of Wi-Fi.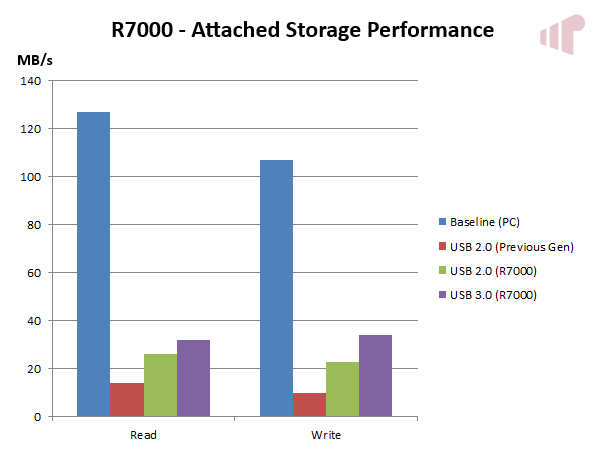 When NETGEAR announced the R7000 Nighthawk, inclusion of USB 3.0 was an interesting new feature versus the previous generation AC1750 wireless routers because of the increased potential for extending NAS performance. Unfortunately, while the R7000's Broadcom 4709 does deliver impressive gains over the previous generation's USB 2.0 implementation and USB 3.0 is fast enough to stream multiple high bit-rate files, there is still significant room for improvement versus what the technology is capable of.
Conclusion
In the modern wireless market, there is not much difference between the underlying hardware each of the vendors bases their products on. When comparing state-of-the-art AC1900 Wi-Fi routers, chances are that, aside from some slight variation in clock speed, the spec' sheets will read pretty much the same. This makes stability and software ecosystem essential differentiators when evaluating competitive models – both areas where the NETGEAR R7000 Nighthawk does well. While the admin UI is a bit plain, ReadySHARE Vault's point-in-time file backup is an outstanding feature that NETGEAR provides as part of the $199. Adding to this the general feature set, stability and excellent performance the R7000 Nighthawk belongs at the top of any AC1900 shortlist.
Pro:
Fast
Router Stablity
Range
ReadySHARE Vault
Con:
Ports are not all consolidated on the rear
USB 3.0 performance not much better than USB 2.0
Still waiting for promised firmware features
Thanks to NETGEAR for providing the review samples.