Intel NUC Kit D54250WYK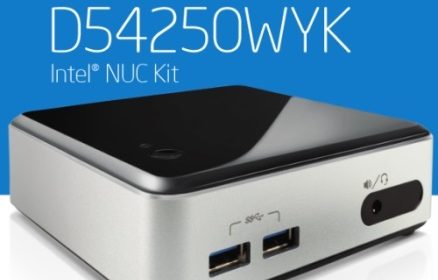 For home theater PC (HTPC) enthusiasts the news that Intel was leaving the retail motherboard market cut deeply. After all, many of the features we have come to expect, like an Intel network interface card (NIC), consumer infrared (CIR), and outstanding stability along with innovations specific to our market, such as the custom solutions (aka HTPC) header, looked likely to slowly fade away. Fortunately–at least for now–these concerns have proved meritless because the output of that decision, the Intel NUC Kit D54250WYK contains each of these features along with something that was previously unattainable to DIY – a 15W TDP integrated processor graphics (IPG). Running $342 in bulk, the cost of the 1.3-2.6GHz Intel Core i5-4250U makes up much of the $360 (estimated SRP) we expect the D54250WYK barebones to retail for. While not cheap, it certainly appears a good value if the Haswell iteration of the NUC can deliver the perfect client HTPC.
Device
Like the previous Intel NUC Kit, the Haswell update also plays the welcoming Intel jingle when exposed to light. It is a nice touch, and this time around Intel included the necessary locale specific "Mickey Mouse" (IEC 60320 C6) power cable in the kit for the US, UK and EU markets. This was an area where Intel took some heat previously so it is great that this was addressed to complete the excellent unboxing experience. It is hard not to compare the D54250WYK to the DC3217IYE when it comes to looks, and it comes away favorably. The aluminum outer shell is very nice, complementing the piano gloss top, and assisting the rest of the device in an easy bid for space in the A/V stack. Of course even if it were a little less handsome, the inclusion of a complete consumer IR (CIR) solution (i.e. the receiver sensor is also included) which supports wake from off (S5)/standby (S3) and discrete RC6 on/off codes it would still be quite natural to include the NUC. One odd thing is that the green "standby" LED is always lit when the device is not on (it is blue in S0). I expected it to annoy but in both cases the light output is so low (read: perfect) that neither was even close to offensive.
It is critical to note the inclusion of "Kit" in the D54250WYK's naming scheme as it is a barebones system requiring, at minimum, an mSATA SSD and some 1.35v DDR3 memory. Looking at the pictures you would be forgiven for assuming that 1.5v will also work, but that is not the case–just an unfortunate bit of component sharing. Cracking the box is quite straight forward, only requiring the loosening of the four screws placed in the rubber feet on the underside of the NUC. If you are a bit more adventurous the D54250WYB motherboard can be extracted by removing the two black screws near the back and some gentle prying in that area. Do not be surprised if it takes more than a little careful effort and some outward pressure on the rear I/O shield.
Once freed from the chassis the included heatsink and fan (HSF) is the most dominant feature on the underside of the board, but it also includes Intel's custom solutions, or HTPC, header which provides access to HDMI CEC and the REC_LED functionality. Unfortunately a more forgiving chassis with space for the Pulse-Eight internal CEC adapter is not yet available, so it was not possible to test this feature. When one does appear, we'll be sure to grab a 2.0mm-to-2.4mm USB adapter and give it a go.
System
Specifcations
Chassis Dimensions:
4.59" x 4.41 " x 1.36" (116.6mm x 112.0mm x 34.5mm)
Board Dimensions:
4" x 4" (101.6mm x 101.6mm)
IPG:
Soldered-down Intel Core i5-4250U
Supported Memory:
2x 204-pin DDR3 1600/1333 MHz 1.35v – 16GB Maximum
Chipset:
Integrated Q87 (Lynx Point)
Network:
Intel I218V Gigabit Ethernet Controller
Video:
1x Mini HDMI 1.4a1x Mini DisplayPort 1.2
Audio:
Eight channel audio via Mini HDMI 1.4a and Mini DisplayPort 1.2
Intel HD Audio via front panel audio jack (mic/headphone/speaker)
External:
4x USB 3.0 (2x Front/2x Rear)
1x Mini HDMI 1.4a
1x Mini DisplayPort 1.2
1x 10/100/1000 LAN
1x Kensington Tether1x Analog Audio
Internal:
1x 6.0Gbps SATA1x SATA power
1x 2.0 pitch USB 2.01x 2.0 pitch Front Panel
1x Complete CIR Solution
Expansion:
1x PCIe Full-Mini (mSATA)1x PCIe Half-Mini
Configuration
CPU:
Intel Core i5-4250U: 1.3-2.6GHz
GPU:
Intel HD 5000: 200MHz-1GHz
HSF:
Included Intel NUC HSF
Motherboard:
Intel NUC Board D54250WYB
RAM:
Crucial CT51264BF160BJ 8GB (2x 4GB) DDR3 1600 1.35v (CAS11) / ADATA AXDS1600GC4G9-2 8GB (2x 4GB) DDR3 1600 1.35v (CAS9)
Storage:
Intel SSDMCEAW180A4 180GB SSD / Crucial M500 120GB SSD
PSU:
Included 65W
OS:
Windows 7 Ultimate 64-bit / Windows 8 Ultimate 64-bit
AVR:
Denon AVR-X2000
Display:
ASUS VE248Q / Samsung PS51F5500
Additional Components:

Intel Dual Band Wireless-AC 7260
Philips-Liteon DL-4ETS Blu-ray Optical Drive
Hitachi Z7K320 320GB 7200RPM HDD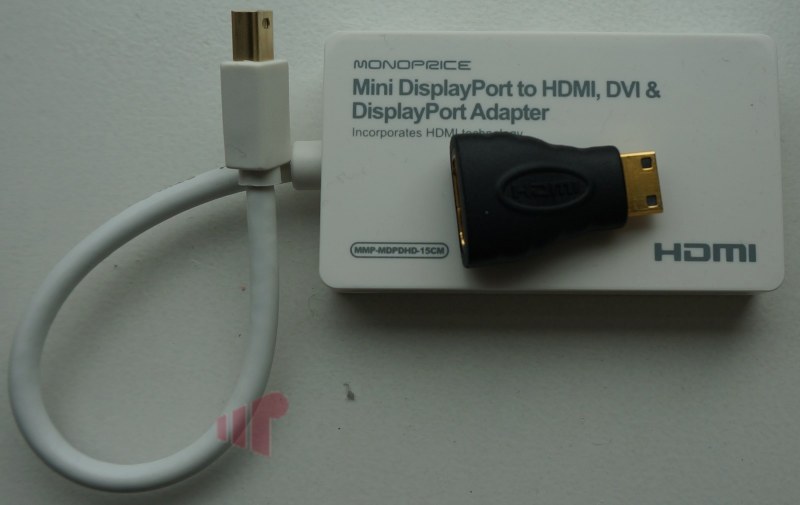 Fitting as much I/O on the rear of the Intel NUC Kit D54250WYK required some compromise, so to connect up to a display an adapter will be required. Both Mini DisplayPort and Mini HDMI were tested with the respective Mini-to-Full-Size converter.
One of the welcome differences between the previous NUC kits and the D54250WYK is the inclusion of a 6.0Gbps SATA port and the header required to power it. It should be noted that Intel did not route 12V to the SATA power connector so 3.5" devices will not spin up, but both the 2.5" HDD and slim-line Blu-ray ODD used to test the feature performed perfectly. The necessary female SATA connector is not included in the kit, but it is possible to use either a standard SATA extension with two or more heads (HDD e.g.) or hunt down the specialized cable (ODD e.g.). I hope to see HTPC chassis that can support both of these use cases in the near future.
One of the few niggles with the Intel NUC Kit D54250WYK is that its HSF can be a bit "buzzy" at times. Like most notebook HSF, its pitch is more a reminder of the NUC's presence than an annoyance, and certainly not loud enough to be audible when the noise floor rises (e.g. people talking in the room, listening to music, watching a movie, etc.). Upon removing the stock HSF it was obvious that more thermal solution was present than really required so it was removed and reapplied (be careful not to misplace the PCH's thermal pad). Unfortunately the results were only marginally beneficial. Hopefully this is another area where we see some 3rd party innovation towards a truly silent NUC solution.
Our BIOS is standard Intel Visual BIOS. Clear and easy to use, there was little to mess with. Oddly the TPM was not enabled by default, so if you want to use BitLocker it will require a trip inside.
Use
Getting both Windows 7 and Windows 8 installed were simple using a USB key, although even Windows 8 did not include the necessary network drivers for the Intel I218V, so make sure you have at least those handy before starting the build.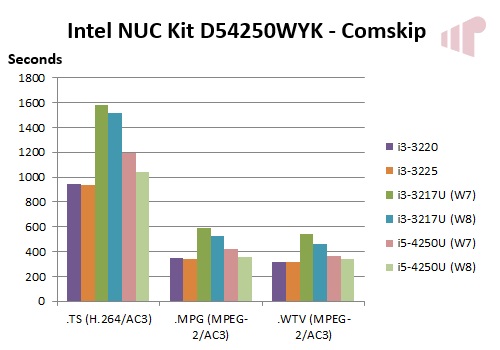 With up to 2.6GHz on tap the Intel Core i5-4250U was unsurprisingly responsive and its relative prowess proved out in the Comskip testing. Naturally it can't quite match previous generation desktop Intel Core i3's significantly higher clocks, but handily bested the Intel Core i3-3217U in the previous generation NUC.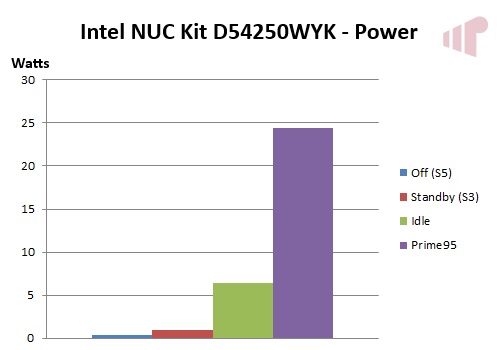 Of course desktop chips cannot even come close to the 15W Haswell's outstanding S3 (0.9W) and idle (6.4W) power consumption. Even under load (Prime95), the Intel Core i5-4250U only consumes 24.4W.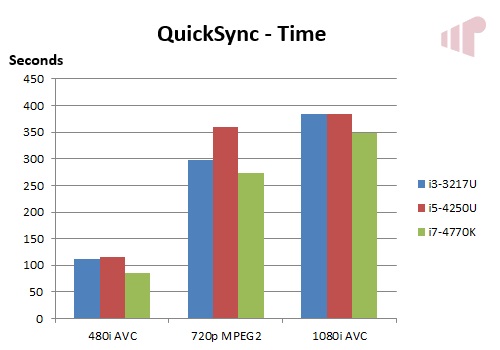 Having taken an in depth look at Haswell Intel Quick Sync performance the numbers above did not come as a huge surprise. The Intel Core i5-4250U is generally a bit slower at the same settings, than the Intel Core i3-3217U just as other we found previously, with picture quality enhancements as the trade-off.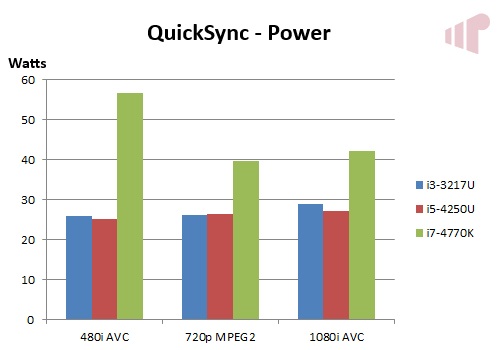 Power consumption was not included in the previous analysis, so it was interesting to see that the Intel Core i5-4250U's Quick Sync implementation has lower power consumption on average than the lower clocked Intel Core i3-3217U.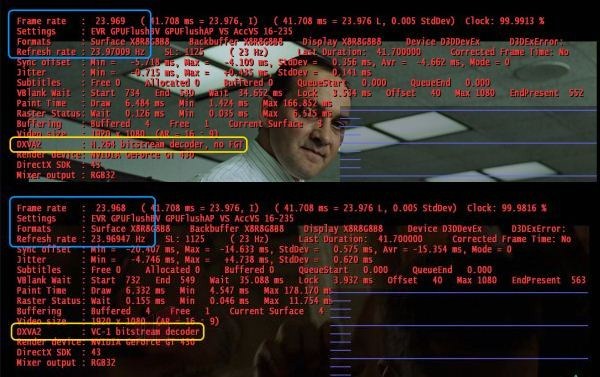 As we all know, Intel graphics have historically struggled in the area of refresh rate accuracy. This issue was put to rest with the 4th generation of Intel Core IPG and the Intel NUC Kit D54250WYK performs admirably in this area – actually the best I have ever measured. This would be meaningless if it did not also check all of the boxes we expect from a competent media solution like correct video levels, HBR audio bit streaming, and 3D Blu-ray playback, but of course it does making it one of, if not, the best all-around SFF HTPC solutions available.
That is not to say that media performance is "without compromise" however. Although more niggle than hardship, I had hoped that Intel HD 5000 graphics would be the one that finally unlocks madVR's full potential on the Intel platform, but unfortunately that was not the case. Like the HD 4400 and HD 4600, it can handle Lanczos 3 + Anti-Ringing (AR), but that's it; Lanczos 4 + AR and Jinc are still off limits. To be clear, this is a minor complaint but still an area where we hope to see improvement in future generations of integrated graphics.
Conclusion

It is almost painful to admit that there is so little to criticize about the Intel NUC Kit D54250WYK. Obviously it is not perfect; it would be great to have a slightly less "buzzy" cooling solution, a second SATA port, and 12V routed to the SATA power, but frankly these "cons" are insignificant compared to the features and performance delivered by this tiny barebones HTPC. All of the boxes we can usually tick on an Intel system are there: correct video levels, HBR audio bit streaming, 3D Blu-ray playback, and solid network performance alongside the refresh rate accuracy we have been waiting for, a complete CIR solution and topping that off — it is all wrapped up in a sleek chassis containing a power efficient IPG. For the budget conscious, the kit's $360 asking price might be a bit high (there will be an Intel Core i3 and Atom version later), but at least for me it seems worth every penny. I cannot wait to see the 3rd party ecosystem evolve around this, and other NUC, products. Well done.
Pro:
Features: Intel NIC, complete CIR, custom solutions header
Form factor
Price
Media performance
Power consumption
Flexibility
Con:
HSF is a bit "buzzy" at times
Intel HD 5000 is not strong enough for madVR Jinc3 + AR
Thanks to Intel for providing the review sample.