IOGEAR GUWAVKIT2 Wireless HD Computer to TV Kit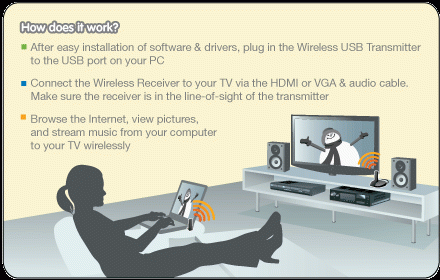 Do you sometimes find yourself in a situation where you want to show off photos, a video or some other content on your laptop on your big screen without the means to do so? You know the drill; everyone crowds awkwardly around the small screen on your laptop and feigns interest even though they are terribly uncomfortable. This is one of the situations IOGEAR hopes to resolve with the GUWAVKIT 2 Wireless HD Computer to TV Kit.
We've taken a look at a number of wireless video transmission solutions over the past year from brite-View, Veebeam and Warpia each offering a different performance and price point. Similar to the Warpia and Veebeam transmission kits, the IOGEAR GUWAVKIT2 uses Wireless USB technology to add a USB graphics device to a PC and transmit the screen wirelessly to a receiving device connected to a display. IOGEAR's proposition is simple: the GUWAVKIT2 wirelessly delivers any computer content including HD video up to 720p with an in-room transmission distance of up to 30 feet while being easy to install and operate.
Specifications
| | |
| --- | --- |
| Audio | |
| Audio Output | 2 Channel DAC with 16-bit resolution |
| Dynamic Range | 93.8 dB, THD+N -71 dB |
| Sample Rate | Up to 48 kHz with 16-bit resolution |
| Connector | HDMI + 3.5 mm |
| Video | |
| Color Depth | 32-bit True Color |
| Resolution | Up to SXGA+ 1400 x 1050 for static image display, 720p for video streaming |
| Screen Modes | Mirror or Extended |
| Video Output | HDMI or VGA |
| RF | |
| Antenna Type | Directional |
| Frequency | 3.1 GHz to 4.8 GHz |
| Channels | 3 FFI |
| Range | Up to 30 feet (10 meters) |
| Modulation | QPSK/DCM |
| PHY Data Rate | 53.3 Mbps, 80 Mbps, 106.6 Mbps, 160 Mbps, 200 Mbps, 320 Mbps, 400 Mbps, 480 Mbps |
| Security | 128-bit AES |
| System Requirements | |
| Operating System | Windows 7, Vista SP2 or XP SP3 (32-bit) |
| CPU | 1.6 GHz |
| Memory | 1 GB |
| Port | USB 2.0 |
| Display | HDMI, VGA or DVI |
| Audio | HDMI, 3.5 mm or RCA |
| Physical | |
| Dimensions (Base) | 5.75" L x 3" H x 1" D |
| Dimensions (Receiver) | 0.75" L x 2.75" H x 0.5" D |
| Dimensions (Transmitter) | 0.75" L x 2.5" H x 0.5" D |
Packaging and Hardware
The IOGEAR GUWAVKIT2 Wireless HD Computer to TV Kit comes packaged just the way we like with a minimal amount of plastic and recyclable cardboard. Upon opening the box, the efficiently packed GUWAVKIT2 makes its appearance consisting of the following:
Wireless A/V Receiver (based and receiver)
Wireless USB Transmitter
Power Adapter
Quick Start Guide
Warranty/Registration Card
Installation CD
The base unit is constructed of thick plastic with a black bottom and metallic gray top. The bottom offers two holes for wall mounting as well as rubber anti-skid feet. There are two USB ports on the base unit to accept the Wireless USB receiver depending on the mounting orientation.
The USB receiver is constructed of the same metallic gray plastic found on the base. If the base is mounted horizontally on a table, the receiver mounts perpendicular to the table in the USB port on the top of the base unit. When mounting the base unit vertically on a wall, the USB receiver is mounted parallel to the wall. IOGEAR has cleverly designed a door that slides over the unused USB port so that it is not exposed.
The Wireless USB transmitter that plugs into a PC shares the same metallic gray plastic construction as the base and transmitter. The transmitter also allows orientation adjustments at 0°, 90° and 180° through a swiveling mechanism at its base.
Performance and Usage
IOGEAR lives up to their word by making the installation process simple. As part of the installation process, it is important to make sure the drivers of the PC where the transmitter is installed are up to date. Once that has been accomplished, the latest driver from IOGEAR should be installed as well as the DisplayLink driver. After the drivers are all installed and the receiver/base unit is powered on and connected to the display, the transmitter can be inserted into the PC's USB port.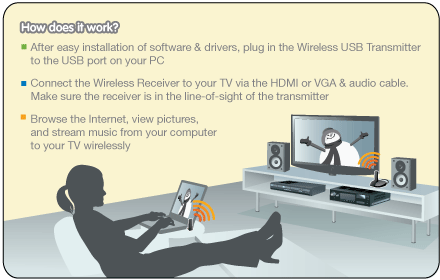 Once the transmitter has been inserted, the IOGEAR Wireless USB Manager utility should show the state on the connection between the transmitter and receiver. A DisplayLink tool will also populate the system tray.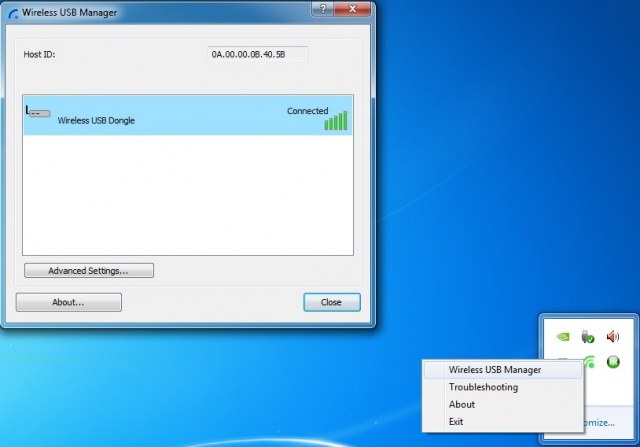 Using the native Windows screen properties configuration, the display connected via Wireless USB can be configured for the appropriate resolution with a maximum of 720p for video or 1440 x 900 for other applications. The display can also be configured to mirror the primary or be used in extended mode (recommended for video).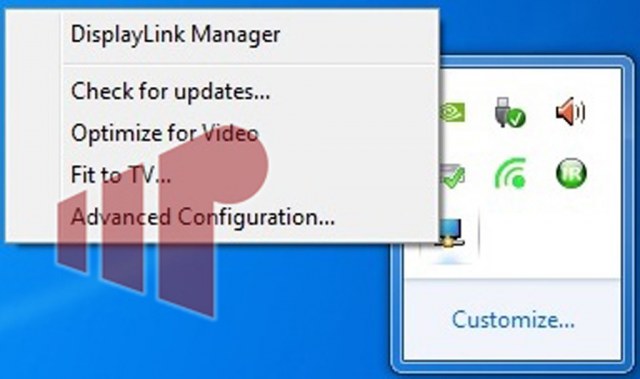 Using the native Windows screen properties configuration, the display connected via Wireless USB can be configured for the appropriate resolution with a maximum of 720p for video or 1440 x 900 for other applications. The display can also be configured to mirror the primary or be used in extended mode (recommended for video).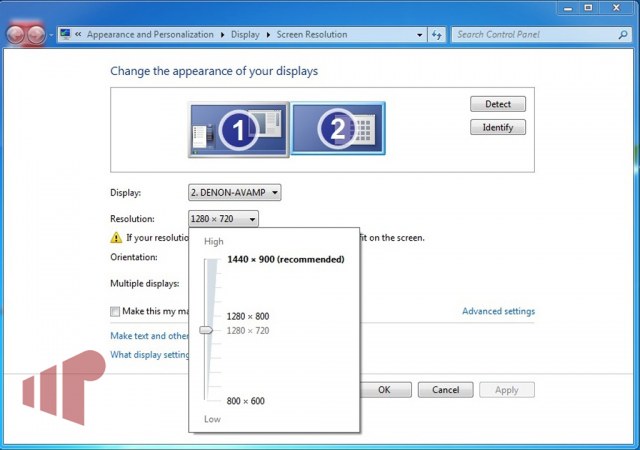 On the audio side, a new audio output will be available to send stereo audio wirelessly to the display or speakers attached to the base unit.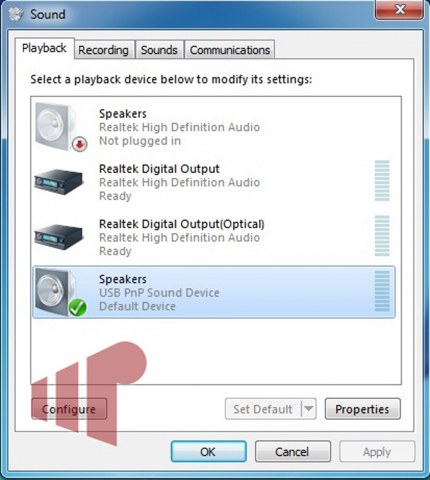 Once the software and hardware were configured, the display was utilized at the maximum 1440 x 900 resolution. In both mirror and extended mode, there were no issues using productivity applications such as Microsoft Word, viewing photos or listening to stereo audio. Audio quality was acceptable and no aberrations were detected.
Using an environment with populated with 2.4GHz wireless and DECT phone frequencies, the maximum line-of-sight (LOS) that could be tested was a length of approximately seventeen feet and the GUWAVKIT2 had no problems maintaining a good connection at that LOS distance. The performance is sensitive to obstacles however, even walking in between the transmitter and receiver for more than a few seconds caused a loss of synchronization, a phenomena even more severe when using a wall as the obstacle. Fortunately, a resynchronization only takes approximately ten seconds. IOGEAR makes no claims beyond thirty feet LOS so any obstacles should certainly be accounted for when locating the base and transmitting units.
Finally, with the resolution configured for 720p in extended mode and using HDMI, video performance was examined. First, video levels were inspected and it was observed that the output of the GUWAVKIT2 was RGB with PC levels (0 – 255) with proper 0 – 255 levels displayed for PC content and 0 – 235 levels for video content. So while levels were correct, the HDMI device accepting the GUWAVKIT2 output should be capable of accepting PC level input (aka Full RGB). There appeared to be no way to adjust video content such that "blacker than black" (BTB) or "whiter than white" (WTW) could be passed, if desired.
Next, test video was played through the GUWAVKIT2. About the best thing that can be said about the video was that it was watchable, but definitely flawed whether full-screen 720p or windowed in a partial screen. The video was choppy and suffered from compression artifacts. Using the DisplayLink "Optimize for Video" option proved to be even worse. While the video became somewhat less choppy, it became much blockier. A preference was developed for the non-"optimized" option. There also was lag with full-screen video which makes the GUWAVKIT2 unsuitable for gaming.
As a final note, the wireless transmission requires some amount of CPU power and IOGEAR notes that lower powered systems such as an ATOM-based one will require the use of a lower resolution when playing back video. Shown below is the resource manager while 720p video is being transmitted using an Intel i5-2500K CPU and another showing the resources used by an Intel SU2300 CPU. The SU2300 CPU is obviously taxed quite a bit with 720p video playback using the GUWAVKIT2 and shows how the minimum specifications should be adhered to.

Core i5-2500k Resources

SU2300 Resources
Power
Power usage of the system was measured at the wall using a P3 International P4460 Kill A Watt power meter. While the base unit and wireless USB receiver has no reduced power mode save for unplugging the device, it does use relatively little power. The same also holds true for the wireless USB transmitter.
| Condition | Power Draw (watts) |
| --- | --- |
| Base Unit + Wireless USB Receiver | 3.7 |
| Base System (PC only) | 69 |
| Base System + Wireless USB Transmitter | 72 |
Conclusion
The IOGEAR GUWAVKIT2 Wireless HD to Computer TV Kit solves the problem of wirelessly connecting a display to a PC. It is easy to install and is suitable for general purpose computing up to a resolution of 1440 x 900 so long as there is wireless LOS within thirty feet with relatively low power required. Unfortunately, the GUWAVKIT2 falls down when it comes to video or gaming applications. It will get the job done at 720p, but the quality will be degraded from what would be expected from a wired configuration or a wireless kit such as the more expensive brite-View system we reviewed previously.
Pros
Adds wireless display to PC
Quick wireless synchronization
Suitable for general PC productivity tasks, stereo audio listening, picture and presentation viewing
Cons
Lag makes applications such as gaming unsuitable
Video quality degraded from original source (blocky and choppy)
Wireless transmission strictly LOS
Strictly uses Full RGB output
Thanks to IOGEAR for providing the GUWAVKIT2 Wireless HD Computer to TV Kit review sample which can be purchased from Amazon or Newegg.