Sony BDP-BX57 / BDP-S570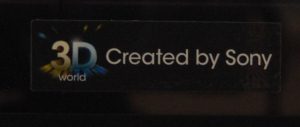 | | | |
| --- | --- | --- |
| | | MissingRemote.com has historically focused on the PC and media streamer segment of home theater devices – mostly because those connected, versatile devices are required to get the most out of your home theater – as CE manufactures move into our space by providing DLNA and content aggregation services in their products it is important for us to include them here as well. Today we look at the Sony BDP-BX57 / BDP-S570 which has the specifications to be a solid Blu-ray (BD), network and streaming media player and is the only 3D player in the ~$200 price point. |
System
Specifications:
| | |
| --- | --- |
| Dimensions: | 430 x 46 x 206mm |
| Weight: | 2.0kg |
| Blu-ray Features: | 24p, Deep Color, Profile 2.0 |
| Local Storage: | 1GB |
| Connectivity: | Ethernet, Wireless (802.11 N – 2.4GHz/5GHz) |
| Input: | 2 USB (1xFront / 1x Rear) |
| Output: | 1xHDMI, 1xComposite, 1xComponent, 1xStereo Audio, 1xCoaxial S/PDIF, 1xOptical S/PDIF |
Before taking a look at the player we should first discuss the differences between the BDP-BX57 and BDP-S570; simply put the BDP-BX57 is a BDP-S570 that includes an HDMI cable. The model distinction only exists for marketing purposes to discourage price matching between warehouse stores (BDP-BX57) and general retail (BDP-S570). The review sample is a BDP-BX57 so for the remainder of the review that moniker will be used.
Player:
After removing the BDP-BX57 from the box I was immediately struck by how small and thin it is. Space is limited in my A/V cabinet so I was originally planning to place it on top for the review, but because of the size I was able to place it easily above my home theater PC (HTPC) without blocking any of the cooling vents on the top of the case.
The front panel is a very attractive glossy black plastic, with the drive tray on the left and the VFD display and USB port on the right. Controls are located on the lip along the bottom. They are very small however, and if your cabinet is poorly lit like mine reading them is very difficult.
Flipping the player around we can see that the back panel hosts another USB port, the fan, coaxial and optical S/PDIF, HDMI, component video, composite video, stereo audio and Ethernet connectivity; the only thing missing is multi-channel discrete analog outs. While not surprising given the player's price point (~$200) it should be noted that for the best audio experience an HDMI capable audio video receiver (AVR) is required for lossless audio.
As noted earlier the BDP-BX57 includes an HDMI cable where the BDP-S570 does not. Besides the deck a remote, batteries and analog audio (stereo) / video (composite), manual and a reminder to update the unit's firmware are also included. I found the remote to be well thought out, and for those who will not replace it with a universal it is nice to have map-able buttons for the TV's input selection and power.
Setup
First Run:
The first time the player is turned on it runs through an "Easy Setup" routine. True to the moniker it was surprisingly easy, just hitting the essential points; if only basic BD playback is required I suspect that no further tweaking would be required as the defaults ensure maximum compatibility with a good experience.
That said, if there's a settings/options menu I find it hard to resist so taking a walk through all of the options was required.
Network Settings:
BD Live, streaming (Netflix) and DLNA performance all require connectivity so "Network Settings" was the first stop. For completeness I ran through both the wired and wireless connection wizards (see the gallery above). As expected wired setup was very easy; just plug in a cable and select "Auto" when asked how an IP should be obtained then you're done. Connecting via wireless was a bit more involved because I initially tried to setup the connection manually.
Those with a wireless router that supports Wi-Fi Protected Setup (WPS ) should just select that option because it is by far the easiest option but for those without WPS two alternate modes for wireless configuration are also available. As should be obvious from the name "Scan" will scan for available access points (AP) where "Manual" does not scan so the SSID along with all of the other settings like security mode (WPA, WPA2, etc.) must be entered manually. Unlike WPS both of these options will require the wireless key which will need to be entered via the remote – this was a problem for me since I use a 32 character value with mixed case, and wasn't able to figure out how to enter capital letters. After a few attempts I gave up and enabled WPS on my router and was able to get it to connect, but did encounter a couple issues that should only affect those with a dual-band wireless router.
The first issue was that my router must advertise both the 2.4GHz and 5GHz APs during WPS setup so I had to run the detection wizard a few times before the player would successfully pair. Second the player preferred the 2.4GHz AP four out of the five times I attempted a connection, where 5GHz was my first choice. Both issues were easy enough to work around by stepping through the scan or manual configuration and selecting/entering the SSID of the 5GHz AP then backing up a couple screens and running WPS again.
iPhone/iPod Remote:
After the network connection is setup it is possible to configure an iPhone or iPod Touch to act as a remote for the player. It is important to install the app on the phone before running through the wizard because interaction is required on both during the process. Registration was simple, although I needed to reboot the iPhone after installing the app (I think this was an iPhone issue, not a problem with the player) before it would successfully connect.
Two remote experiences are included in the app, simple and full; both work quite well to drive the player but navigation was a bit slower compared to the included infrared (IR) remote. Overall I found the remote application it to be intuitive and the extra features like disc info and YouTube trailers were nice although I would have preferred that the trailers played back on the BDP-BX57 instead of the phone. The lack of a power button is a glaring and crippling issue however, as there is no way to turn the player on or off without a trip to the deck or by using the IR remote.
Other Setup:
Like all BD players the BDP-BX57 requires periodic updates (Sony recommends checking every two months) to function properly, but Sony also uses the firmware updates to add features advertised on the box after the hardware went on sale – 3D and DLNA being the most notable. There is not much to say except that firmware updates are not cumulative, so after setting up the network connection keep hitting the "Network Update" section until it notes that the player is running the latest version.
Out of the box the player is configured for maximum compatibility so it does not bit stream HD audio codecs (Dolby TrueHD and DTS-MA) by default. To enable bit stream support "BD Audio MIX Setting" (found in the Audio Settings) must be turned off. Note that disabling this setting will disable menu sounds and commentary audio tracks (a nice value-add in my opinion :)).
Before looking at media performance let's take a quick look at the BDP-BX57's load times and power usage numbers. As we can see the load times vary between discs but in all cases are very good with an average load time of 20 seconds. Startup times are also very excellent especially when "Quick Start" is enabled; but even when it is not the player starts up fast enough that there was no perceptual difference between the two modes in my home theater – so unless your AVR and TV are blazing fast I recommend saving the 9W.
Player Performance
Blu-ray:
When it comes to BD playback it would be very difficult to find a better player, especially for the money. Picture quality was excellent, 3D works brilliantly, and it has a scrub/information display that satisfies the geek in me with resolution/frame rate, audio codec/bit rate, and video codec/bit rate all displayed alongside the timeline. Add in the +15 second "ADVANCE" and -10 second "REPLAY" buttons and quick disk loading, and there is almost nothing to complain about. In fact, the only thing I found was that when trying to playback 3D through my HDMI 1.3 AVR (Denon AVR-1909) only a black screen and silence are presented. While I expected the problem I couldn't find any references to the subtleties of using 3D's HDMI 1.4 with HDMI 1.3 equipment in the manual where I would have expected at least some mention of the issue.
Streaming:
With native support for Pandora, Netflix, Amazon On Demand, YouTube, Blip.tv and Qriocity (Sony's Video On Demand service) along with many other services, access to online/streaming content is another strength of the player. Of all these, I only spent a significant amount of time with the Netflix interface; while not as rich as the Windows Media Center (7MC) integrated Netflix player in UI experience, speed, queue management (you cannot search for titles or manage the instant streaming queue on the BDP-BX57) or picture quality, it was still a quite competent and usable experience. I was annoyed that in order to enable the feature I had to register with Sony, but it was more disappointing that the ADVANCE/REPLAY and NEXT/PREV (for those unfamiliar with the 7MC Netflix application NEXT/PREV displays a selectable timeline with pictures – really nice for skipping the "previously on…") buttons on the remote did not have purpose. Fast forward and rewind are functional, but only advance the position in the scrub bar and not the timeline (playback continues at the current position) until play is pressed – then seeking occurs. Overall I found the streaming experience to be pretty good, but not quite ready to compete with the HTPC; that said it was much easier to setup and maintain so putting a BDP-BX57 next to my SageTV extender is quite tempting.
DLNA:
Where BD playback is excellent and streaming is good, DLNA support needs significant amount improvement to qualify as adequate. This was of particular disappointment to me because it was one of the features (3D and price being the others) that made the player stand out in a crowded field.
Using the DLNA server built in to Windows Media Player 12 only Photos really worked well; music was completely absent (I was really hoping to use Play To) and the majority of videos tested displayed an error on playback. PlayOn was also tested with only slightly better results – music browsing was available but every file tested (mostly mp3s) displayed an error as well. DLNA support was added via a firmware update, so hopefully the feature will evolve over time to provide better support for network based media and the full capabilities of the specification.
USB:
The BDP-BX57 also supports local file playback from drives attached to the USB ports located on the front and back of the player. Unfortunately only FAT/FAT32 formatted drives are supported so usefulness is mostly limited (due to FAT32's 4GB maximum file size) to photos and music but M2TS and MKV will play from local storage as well. Interestingly I was able to get excellent results from M2TS files where HD audio and track selection both functioned perfectly. Most of the MKV files tested would play, but HD audio support was spotty at best (one MKV with DTS-MA would play after displaying an error message) and my Level 5.1 tester refused to play at all.
HQV-HD:
Lastly a quick look at the HQV-HD scores for the player. To provide some context scores from other devices tested are also included in the chart because while HQV generates a numerical value, scoring is subjective and will be dependent on other factors like the display results are judged on. In this case the BDP-BX57 produces a solid performance consistent with the other components tested. For those interested in the complete results it is available for download and should be viewed with the scoring guide from IDT .
Conclusion
Measured on its performance as a Blu-ray player the BDP-BX57 is arguably one of the best standalone options available today. Providing excellent BD picture quality and features like dual band wireless N, 3D and 1GB onboard storage it is unmatched by any other player at the same price point (~$200 ) while also including solid streaming options (i.e. Netflix, Pandora, YouTube, etc). Unfortunately for those looking for the perfect convergence box it is not quite ready to compete against in media streamer market however, as local storage and DLNA support is still very immature.
Pro:

Excellent Blu-ray picture quality
Fast Blu-ray disc loading
Netflix, Amazon On Demand, YouTube, Pandora, etc. integration
3D Support
Price
Intuitive menu navigation
Con:

DLNA support very immature
MKV playback does not support HD audio
USB only supports FAT formatted drives
Online streaming requires registration with Sony