SageTV STP-HD300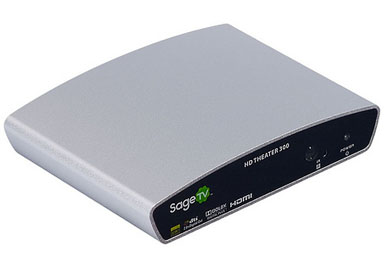 Those familiar with SageTV know that one of its major strengths is an consumer electroincs (CE) style extender, the STP-HD200, which really extends the entire experience – supporting everything from DVDs with menu support, to BDMV (Blu-ray folders) and MKV with PGS (aka Blu-ray) subtitles. The STP-HD200 was not perfect however, especially for those who use standby on the SageTV server or connect it directly to a TV, so when the opportunity came up to get an early look at their upcoming STP-HD300 which fixes both of those issues (and a whole lot more) it was impossible to say no.

Click through to watch the unboxing and read the full review.
The Device
First some caveats. I received the unit a few days before going on vacation so I did not have as much time to really dig into the device as I would have liked so this review is not as detailed as it could be. Also, while the hardware is final and works with SageTV V6.6 the device was tested with the 20100827 Release Candidate* firmware as part of the ongoing SageTV V7 beta so I did not evaluate it as a finished product – there will be a "Gold" firmware revision available before the hardware ships to end users, but it will be a newer version.
With that out of the way, what really differentiates the STP-HD300 in the crowded media streamer market is that it can operate both as a standalone streamer, with attached and network based storage, as well as acting as an extender for a SageTV server. While the STP-HD300 is a competent media streamer, it is much more useful as a connected part of a SageTV ecosystem; while standalone mode was tested this review is mostly targeted at the extender scenario.
| | |
| --- | --- |
| Dimensions: | 5 1/16" W x 1 1/2" H x 4" D |
| Processor: | Sigma SMP8654 SOC |
| Input: | 2 x USB, 1 x Infrared Receiver (optional) |
| Connectivity: | 1 x 10/100 Ethernet (also supports USB wireless) |
| Output: | 1 x HDMI 1.3a, 1 x S/PDIF (TOSLINK), 1 x Component Video*, 1 x Composite Video*, 1 x Stereo Audio* |
| Video Codecs: | MPEG1, MPEG2, MPEG4, XVID, H.264 up to 1080p, WMV9/VC-1 up to 1080p, MJPEG, Flash Video |
| Audio Codecs: | MP2, MP3, AAC, AAC-HE, ALAC, WMA, WMAPro, PCM, Vorbis(stereo only), FLAC, Dolby Digital/Dolby Digital Plus/Dolby TrueHD**, DTS/DTS-HD**/DTS-MA** |
| Closed Caption / Subtitle Formats: | EIA-608(NTSC/ATSC/QAM Closed Captioning), SRT, SSA/ASS, VobSub (sub/idx, mkv), Nero MP4 VOB Subtitles, MP4 Text, SAMI, .sub (Subviewer/MicroDVD), DVD, BDMV, M2TS |
| File Formats: | AVI, ASF, MKV, MOV, MP4, QuickTime, MPEG-1, MPEG-2 PS, MPEG-2 TS, M2TS, BDMV (Blu-ray folder), ISO (Blu-ray, DVD), VIDEO_TS (DVD folder), VOB, M4A, MP3, FLAC, OGG, FLV, WAV, WMA, MKA, DVR-MS |
| User Interface (UI) Resolution: | 1024×576 (UI only does not effect content playback) |
* via breakout cable
** stereo down-mix requires core audio track
Looking at the specifications we can see that the STP-HD300's internals have undergone an evolutionary change from the STP-HD200 which was based on Sigma's SMP8635. Compared to the earlier model, the 8654 has twice the RAM and memory bandwidth as well as a processor which is one and a half times faster. These system improvements translate directly into device performance with a slightly faster UI and greatly improved media library capacity in standalone mode (~100,000 items compared to ~15,000). I also found the UI in extender mode to be slightly faster, but still not quite as responsive as most PC clients; somewhere in between an i3-530 and the ZinoHD for most activities. In addition the SMP8654 supports several additional DRM schemes not included in the SMP8635, it is too early to say if the capability will be leveraged on the device, but it is great to have the flexibility should SageTV decide to in the future.
File and codec support is very impressive with most every codec and file format I can think of being supported. I did not get a chance to test each file/codec type on the list but everything I threw at it (including a Level 5.1 H.264 MKV, FLAC, M2TS, MKA and many others) played without issue. On the audio side there are several differences compared to the STP-HD200, the biggest is that as an HDMI 1.3a device the STP-HD300 supports HD audio bit streaming with a compatible audio video receiver (AVR), but for those not using an AVR also has the ability to decode all of the Dolby and DTS variants (including TrueHD and DTS-MA when a core audio track is present – containers that do not support HD+core tracks will still require a separate AC3/DTS track to decode to PCM) to stereo PCM when configured to do so. Unfortunately multi-channel PCM output is not supported on the device either in native (i.e. LPCM in a file container) or when decoded on the device (WMAPro, FLAC, DTS, etc.) so any audio that leaves the device as PCM is stereo only.
Update 09/01/2010:
SageTV released an updated firmware revision (20100901-0) tonight that enables multi-channel PCM output. I tested it with multi-channel WMAPro (WMV), FLAC (MKV), and LPCM (MKV) and it is just about perfect.
Casually looking at the device in photographs it is easy to miss how great the form factor is, but on closer inspection (look at the HDMI and Ethernet ports on the back relative to the size) it becomes clear how small it is. The front of the device has a glossy black plastic face with some logos, the port for the optional external infrared (IR) receiver ($7.95) and a status light (blue = on / red = standby) which is much more subtle than the previous model (I put electrical tape over the status lights on the STP-HD200).
Turning it around we find all of the breakout, optical S/PDIF, HDMI 1.3a, two USB ports, Ethernet and power connectors. The USB ports have two main functions providing attached storage (FAT, NTFS, EXT2/3 and HFS) in local mode and supporting two wireless network adapters, but they also work with USB keyboards making it much easier to enter a complex WPA key (hit "abc/123" twice on the remote to disable triple-tap). For those interested in the device's wireless capabilities, I tested with the officially supported 2.4GHz 802.11N Encore Electronics ENUWI-N and found it worked quite well for everything but very large (15GB+) files, a result consistent with my other experiences using 2.4GHz 802.11N.
The outer shell is made of a thick brushed aluminum which gives the device a very attractive look while also acting as a heat sink. The case does get a bit warm (105° F) when used in my A/V cabinet, but I was assured by SageTV that this is completely normal. For those who would prefer not to look at the device, the size and external IR receiver make it very easy to mount out of sight; behind the TV for example. The STP-HD300 is completely silent at all times, opening it up we can see that it is passively cooled with only a small heat sink on the SMP8654.
An HDMI cable, breakout cable with composite video / component video / analog audio (note that all of the cables on the breakout are male), Cat 5e (not shown), power adapter, and remote are included with the device. The optional external IR receiver is also shown.
The remote is very similar to the one provided with the STP-HD200, but includes programmable buttons for TV power and Volume Up/Down – Online, Search, Prev CH and DVD Return were removed to make space.
Setup
When the device is powered on the first time it will prompt to automatically configure itself. The first time through I selected "Yes" and for the most part everything worked properly; the only exception was that "Digital PCM" was selected even though it was connected to an HDMI 1.3 capable AVR. To test the difficulty of a manual setup the device was reset to factory defaults by unplugging the device then while pressing and holding the "Back" button on the included remote (my Harmony did not work) plug it back in and wait until the Service menu appears (which is much simpler compared to the ritual required to restore a STP-HD200). After it was reset "No, I would like to run manual setup" was selected which while requiring more clicks was also very easy.
After the initial setup is complete it is a good idea to update the firmware to the latest beta; browse to the settings menu and select "System Update". By default the device will only check for gold releases but in most cases you will want to get the latest by typing "beta" (2382) in on the remote. After getting the latest firmware select "SageTV Servers" from the main menu to browse the network for a server and configure it to automatically connect. One nice thing (and a change from the STP-HD200) is that once configured to auto-connect to a server the MAC address is stored in the device's properties file so it will send a Wake-on-LAN (WOL) packet to the server and wait for it to respond before attempting to connect. This behavior only works when the power button is used to wake the unit, pressing "Home" to launch directly into the extender experience will not send a WOL packet.
Update 09/01/2010:
SageTV released an updated firmware revision (20100901-0)
tonight that sends a WOL packet when "Home" is pressed making it possible to launch directly into the extender experience.
Performance
Looking at the STP-HD300's power usage we can see that it is very good with standby mode consuming 7W and everything else using 8W. I originally had several other cases that I wanted to test out, but after noticing the trend I did not bother.
While the STP-HD300 will play pretty much anything, as indicated in the HQV-HD numbers (a PDF of the full results is available which should be viewed with IDT's scoring guide), while the device does an adequate job with
deinterlacing (DI) it does not perform as well when scaling content. For those with a
decent downstream video processor (AVR, TV, or dedicated device) the
native output switching* feature is the best option as it will push DI
and other post decode video processing downstream to that device.
With native output switching enabled I found little to complain about. Levels were perfect (measured with BasicSettings.mp4), Dolby TrueHD/DTS-MA bit streamed to the AVR, and 1080i HD PVR (AVC/AC-3) and top-bottom/side-by-side 3D (the display does need to be manually configured for 3D) files all playing flawlessly.
* Native output switching changes the output resolution and refresh rate to match the content
Conclusion
The SageTV STP-HD300 is a great example of a solid device (STP-HD200) getting better. With HDMI 1.3 (HD audio bit streaming), audio decoding, WOL support, an attractive chassis and a faster experience the STP-HD300 addresses many of the concerns I had with the previous model at a price ($150 pre-order with an expected ship date of 9/10/2010) that is $30 less than the current (discounted) price of the STP-HD200. As a standalone media streamer it is competent in a crowded field, but when combined with SageTV Server to extend the full PVR and media browser experience provided by that ecosystem the STP-HD300 arguably provides the best full featured multi-room viewing experience of any system.
Pros:
Attractive form factor (small and good looking)
Price
Codec support
Native output switching
SageTV Server WOL capability
Cons:
No multi-channel PCM output (addressed in firmware 20100901-0)
WOL only works when launching in standalone mode (addressed in firmware 20100901-0)
DTS-MA/DTS-HD/Dolby True HD Stereo downmix requires core audio