Actiontec Ethernet over Coax MoCA Network Adapter

Actiontec Ethernet over Coax MoCA Network Adapter

Have you ever been in that situation where wifi just doesn't cut it, forcing you to try other network solutions such as Ethernet over power line and wanted tear your hair out in frustration? Whether you have a HTPC, a network media tank, or a video game console system you've been to that point where you just wish you could run an Ethernet cable, however due to constraints in your living situation you just can't hard wire that Ethernet cable like you want to. Today we look at the Actiontec Ethernet over Coax MoCA network adapter and run it through the paces to see if this adapter is just the answer to all your hard wired woes.
Introduction
Have you ever been in a situation where you absolutely needed to run an Ethernet cable and you just couldn't run one due to your living situation? Where you first tried wifi (802.11a/b/g/n) and quickly found that wifi, even N wifi, was not stable enough. Then you went on to try alternative connectivity solutions such as Ethernet over power line adapters and they too just didn't cut it? Well Ethernet over coax MoCA adapters might just be the solution for you.
I live in a newer home and the previous owner was 65 years old; she could have cared less about Ethernet cables or even coax for that matter. When I moved into my new home there were only two phone jacks throughout the house, and only one bedroom of the three had coax pulled. Needless to say not a single room in my home had Ethernet pulled. When I was just moving into my home was around the same time I started to get into HTPC's and into whole home audio and digital media. I quickly realized I liked to enjoy my content in any room in my home and wasn't willing to be tied to a single room where the content was. I wanted to be able to go to any room in my home and enjoy my digital media unrestricted. At that time Microsoft Windows Media Center was getting started and that is when the first Windows Media Center Extender was introduced and I quickly saw the need for having Ethernet in each bedroom where my TVs were located (Editor's Note: Those of you who ever tried the built-in wireless from the V1 Extenders will understand why Josh was so adament about ethernet–the wifi in those devices was, well, useless!).
Over the years I was able to strategically add Ethernet and additional coax drops to each of my bedrooms through access in my attic. My family room located on my main floor–between the upstairs where the bedrooms are, and my basement where my home theater is–was the only room left out of the loop for getting an Ethernet cable drop. When I finished off my basement, I ran literally miles of cable inside the walls and ceiling of my basement and attic no location was left untouched, except for my family room above my home theater room. I was so preoccupied with my basement build that when I started to drywall I forgot one thing, to run Ethernet and coax to my TV location in the family room! By the time I was done with the basement, it was just then I realized I forgot to run the cables for my Media Center extender on that TV.
Over the years I tried several Ethernet over power line adapters, I tried Dual band N wireless utilizing the less congested 5Ghz radios and neither solution could muster a reliable amount of bandwidth to support HDTV streaming. It wasn't until recently I was able to test out a new solution–the Actiontec Ethernet over coax MoCA adapters. The beginning of April I got my hands on the Actiontec ECB2200 Ethernet over coax MoCA adapters. Upon arrival I instantly knew where they were going to be tested out–on my Media Center Extender located in my family room where it was laying dormant for months of non-use due to the stability issues with wireless. Instantly I was impressed, but before I go any further I want to cover the specs of the Actiontec hardware, installation and setup.
Background
A little background on MoCA:
If you are a Verizon FIOS customer you may or may not know that you have been using MoCA technology for a few years now. It was not until recently that MoCA has started to become mainstream and vendors started providing products on the market.
Multimedia over Coax Alliance (MoCA) is group of industry professionals joined together to create a specification standard for developing home networking solutions that utilize in-home coaxial cable, most commonly referred to as RG6. RG6 is most widely used in homes for distributing antenna connections to TVs and radios, as well as satellite and cable tv services.
MoCA utilizes that existing coax infrastructure in your home that almost every home in the last two decades has had installed throughout. MoCA adapters, like the Actiontec adapter being reviewing today, utilize the unused 1ghz (1000mhz) microwave band, using OFDM modulation.
MoCA adapters take the Ethernet specification, which utilizes Cat5/Cat6 Ethernet cables and re-modulates it to send the Ethernet signal over the TV coax in your home. Some common use applications for this technology and the use of the MoCA adapters are things like connecting your Xbox360 to your Internet connection where your cable or DSL modem and router may be located several rooms or even several floors away from where your Xbox is located.
Here you can see an example of how you can utilize the Actiontec Ethernet over Coax MoCA network adapter in your home. You have one network adapter located in your Office where your DSL connection is located, along with your router. Run an Ethernet cable from your router into the MoCA network adapter, then connect the MoCA network adapter into your TV coax that runs through out your home.
In each subsequent room you hook up identical MoCA network adapters onto the TV coax in your home, then run a short Ethernet patch cable from your MoCA network adapter to your DVR, a Media Center HTPC, or your gaming console. Once they are all connected each network adapter sees each other and routes traffic to the main network adapter where your Internet connection is. The great thing about this is it extends your home network so any file sharing between devices works as if it was directly connected to your home router or switch.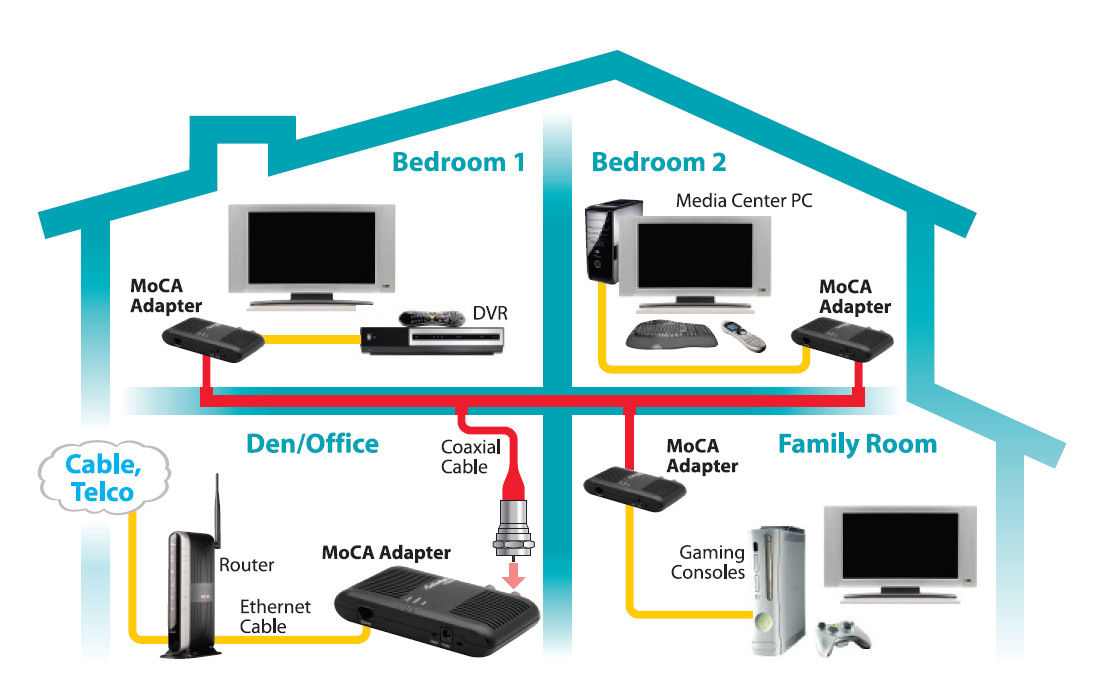 Specifications and Features
Technical Specifications:
Features
Description
RF Interface

Connector: F-type

Impedance: 75 ohms

Network Center

Frequency Range

1150 ~ 1525MHz
Network Frequency Range
1125 ~ 1525MHz
Max Transmit Power
+3 dBm (52 dBmV)
Link Conditions

Min Attenuation (> 250 Mbps): 10 dB min

Max Attenuation (>250 Mpbs): 50 dB max

Max Attenuation (>30 Mbps): 68 dB max

Network Size
16 Devices (including main Network adapter)
Max Physical Data Rate
Up to 270 Mbps
Coax Application Data Rate
up to 175 Mbps bi-directional combined
Ethernet Interface

Connector Type: RJ45

Configuration: Single Port

MoCA Version
MoCA 1.1
Link Delay

Typical: 3.5ms

Max: 9ms

Power Requirement

Power Consumption: < 5Watts

Input Range: 100-240VAC, 50/60Hz

Dimensions

5" x 3" x 1" (posted horizontally)
Features:
Supports full Ethernet speed (10/100 mbps)
Uses existing coax cabling
Coexistence with cable TV services
Up to 16 devices on a single network
Unboxing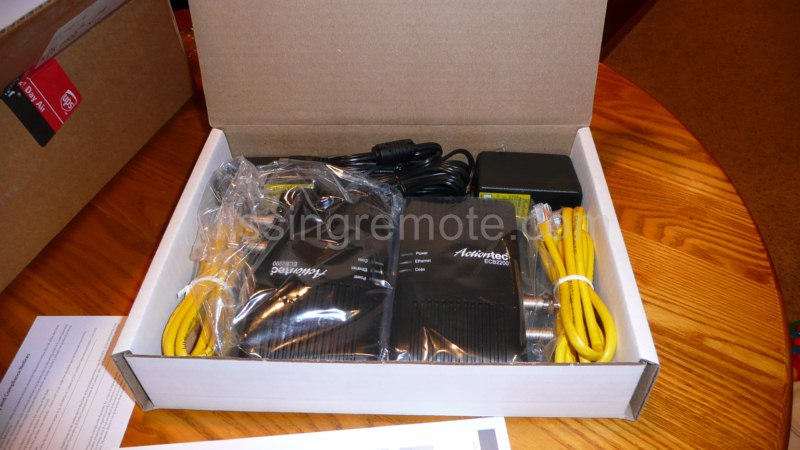 The contents of the packaging
Installation guide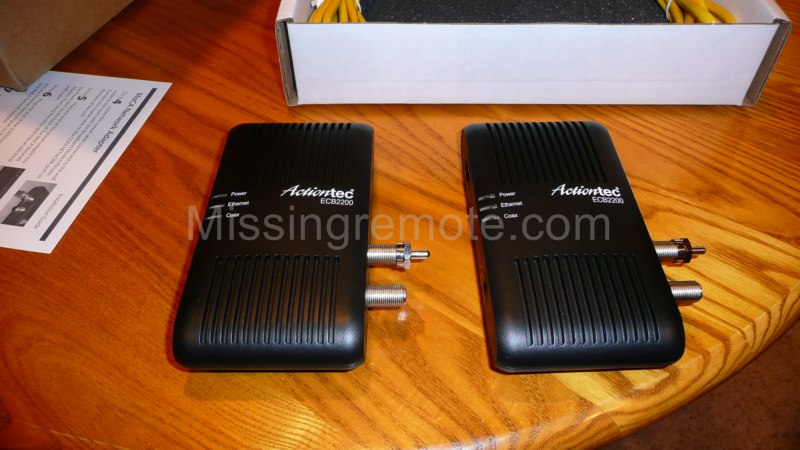 The pair of the units, similar to the twin pack you can find on Amazon.com. You can run up to 16 of these units together in a household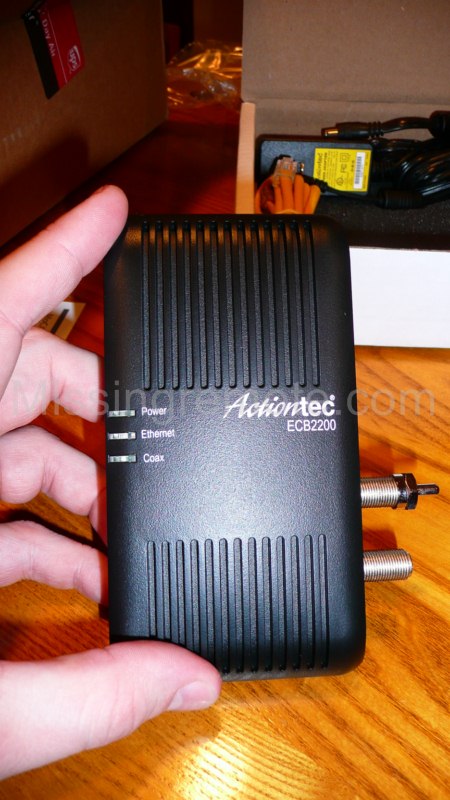 Top of the unit with indicator lights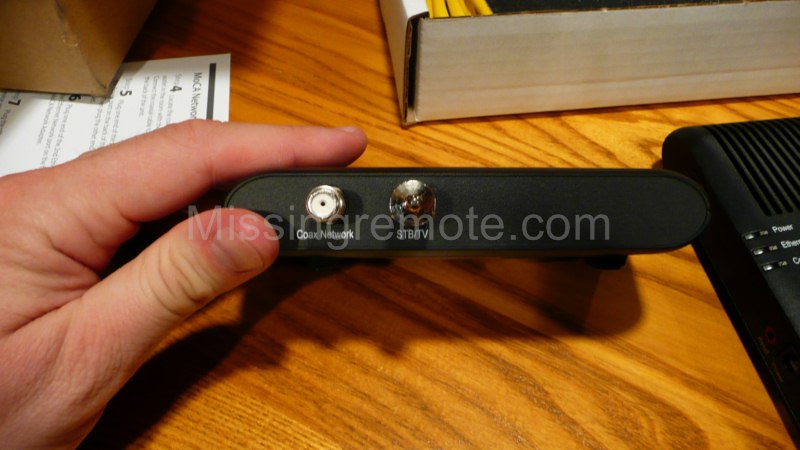 The coaxial side of the unit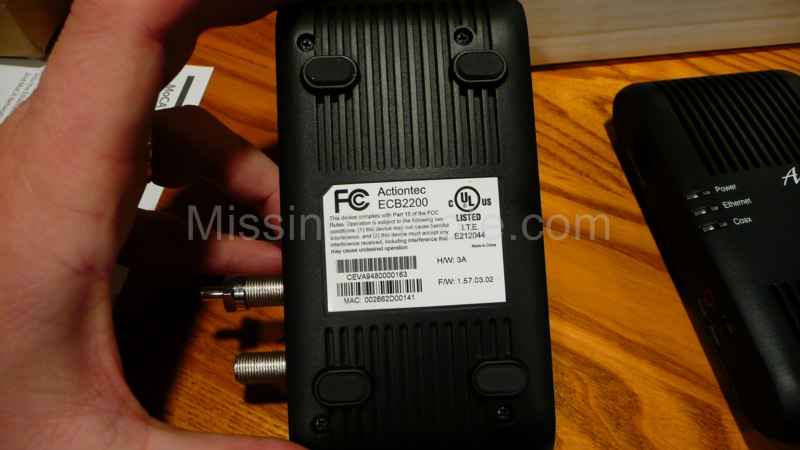 The bottom of the unit
Network and power side of the unit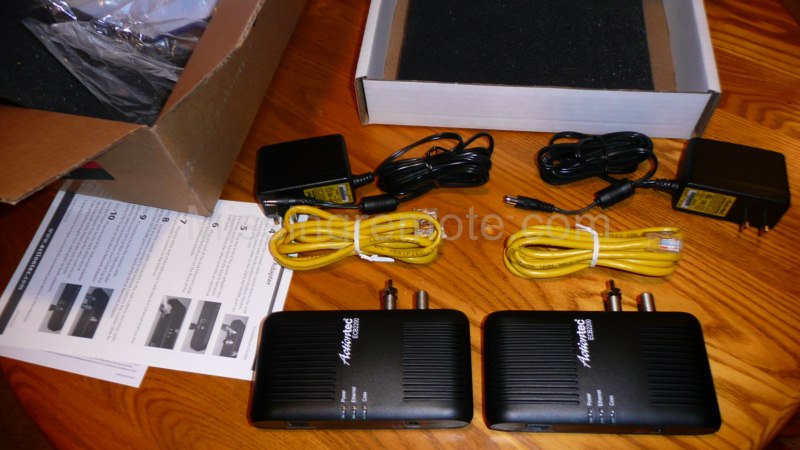 The entire kit unboxed
Installation
It's not all that often I get to review a device that is so simple to setup and easy to use. Out of the box the Actiontec MoCA adapters required zero configuration, making them essentially plug and play. Directly out of the box, I connected one adapter in my media closet, and the other went into my family room connected to my Media Center Extender.
After everything was connected I performed some basic network tests with the Media Center extender. I ran the test for 15 minutes and only once did the graph drop below the minimum threshold for HDTV video.
Installation of the MoCA adapters couldn't have been any easier. Out of the box they were ready to go. If you have ever connected a cable or satellite set top box to your TV, this is about as easy as that gets.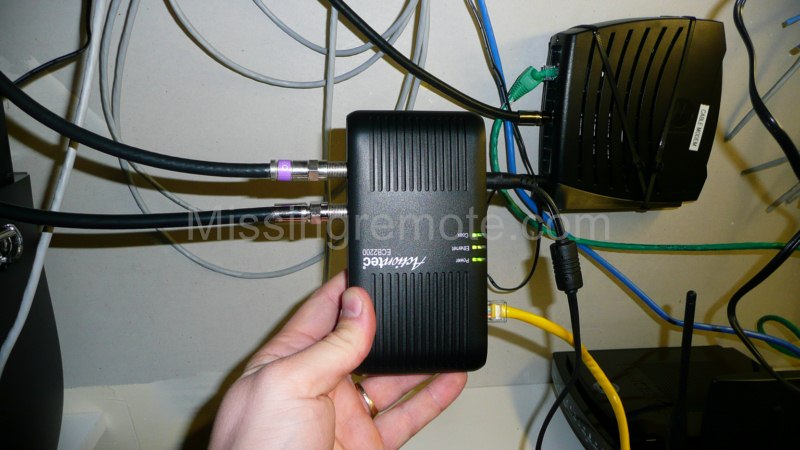 The first unit was installed into my AV closet where my cable modem, router and switch are located. This same area is where I also have my coax distribution block for my entire home so it made it really easy to hook up in my home.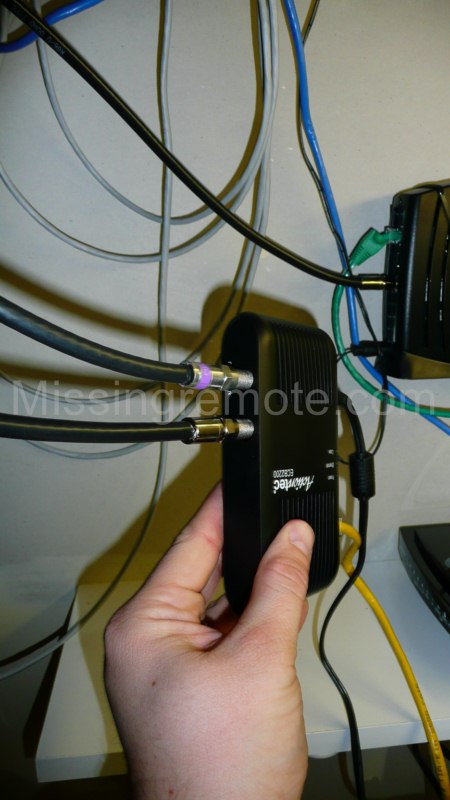 Here we have the coax running into and out of the adapter. What is great is that you can run this between your wall and your TV cable box so that you can get Ethernet into your home entertainment unit easily.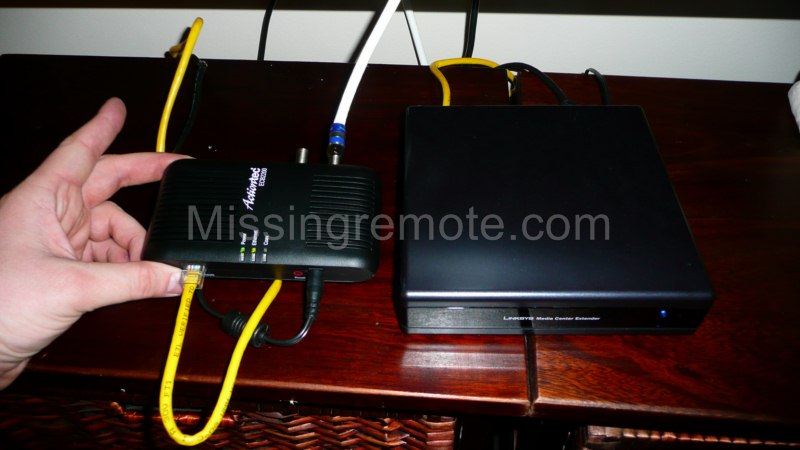 The Actiontec unit side by side with my Linksys DMA-2100 Media Center Extender. They are relatively small and compact, fitting nicely behind much of your AV equipment.
Usage
When I received the devices I knew I wanted to put them through the paces, testing out a variety of every day common uses, but also put them through some non-standard configurations as well. One of those configurations was to see how many coax splitters I could have in-line between each MoCA adapter and then test the throughput performance as well as packet loss. I was able to get up to 5 splitters in-line between the two adapters before I started to see a degradation in the network performance and packet loss. Most homes on average do not have 5 splitters in their home, and if you do I'd probably recommend you re-think your coax infrastructure in your home. For most users 2 or 3 splitters seems to be a pretty common number and with that these devices should work perfect fine for most if not all end users (not including Satellite users that is).
I also tested file transfer performance, and HDTV and Blu Ray streaming with these devices. For the network performance and file transfers I connected my laptop to one side of the MoCA adapters and by pulling down a full 40gig Blu Ray rip from my Windows Home Server (WHS) box I was seeing on average 65Mbps of throughput. In comparison I see about 96Mpbs of throughput on a hard wired 10/100 Ethernet network I setup for comparison.
Over the 60 days I had to test the MoCA adapters I was streaming live HDTV, SD, DVD's, backed up Blu Ray movies all to my media center extender, and not once did I experience an issue with drop outs like I did on 802.11N wifi.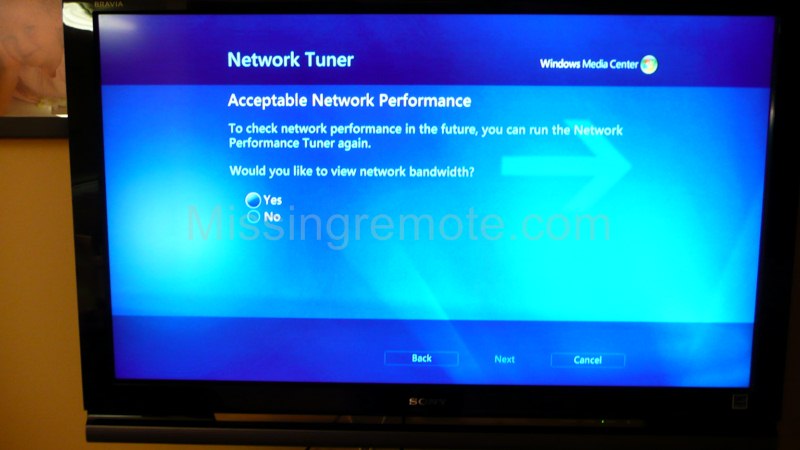 Windows Media Center has a network performance test program for Media Center Extenders which allows you to tune your extender performance as well as monitor bandwidth to make sure it is acceptable for HDTV performance.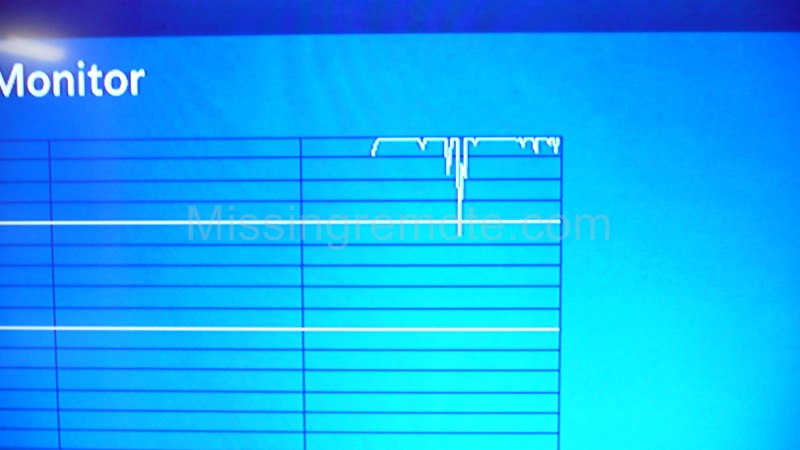 The top white horizontal line is minimum acceptable performance for HDTV, the bottom white horrizontal white line is minimum acceptance for SDTV.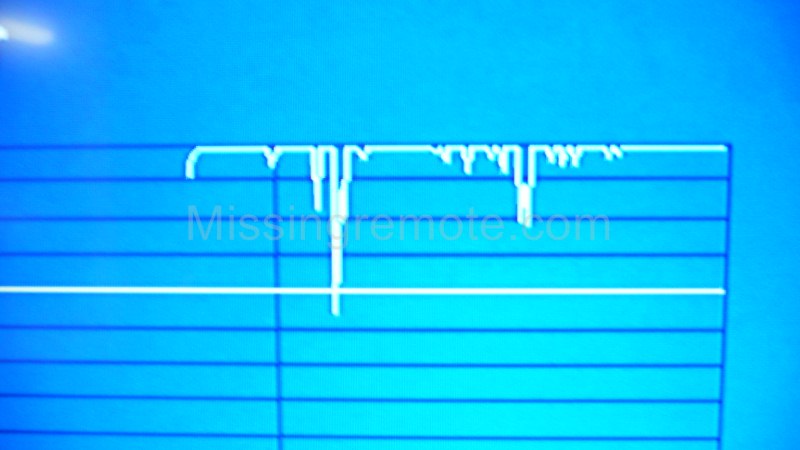 The test ran for over 20 minutes and I saw one drop out during the test which was right away; after that I saw no performance degragation for acceptable HDTV playback.
Conclusion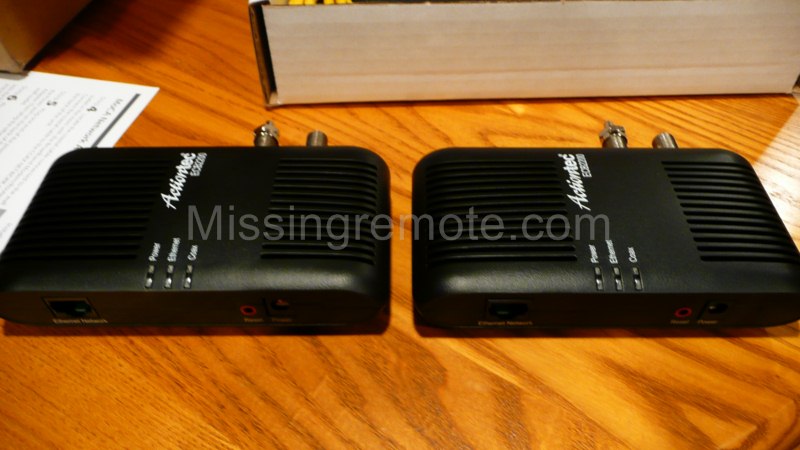 These devices performed just as they should, and couldn't make it any easier. For users looking for an alternative solution to a hard wired Ethernet connection in your living room or bedroom where it is nearly impossible to run an Ethernet cable, devices like the Actiontec MoCA adapters might just be what you are looking for.
PROS:
Easy to setup
Zero configuration
Just work/No fuss
Faster than wifi
CONS:
Might be a little expensive for some people
At the time of writing this article, a pair (Twin Pack) of the Actiontec Ethernet over coax MoCA adapters could be found for $158 street price at Amazon.com
Special thank you goes out to Actiontec for providing the review samples and allowing Missing Remote the opportunity to do extensive testing on the units.