HD-PVR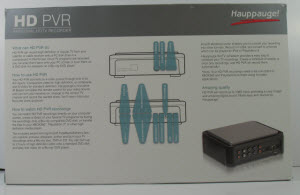 Each new technology the crosses path with the rabid HTPC enthusiast seems to be the holy grail. Last year it was QAM tuning and CableCard. With the distaste of these two technologies in our mouth are we ready for a new idol that will be the object of our daily HTPC prayers? Hauppauge has decided the time is right and to much fan fare they have launched the HD-PVR. On paper, this HD-component capturing device certainly sounds good, lets see if it is worthy of our eager desires.
Introduction
Technolgy Overview

One benefit about reviewing a product a few months after launch is that you get to see how the product holds up to several thousand testers rather then just your sole experience. This gives the reader a better idea on build quality, the current state of software support for the hardware, and of course valuable insight from the article author ;). Iffy justification of a late review aside, lets move this evaluation forward with some tech specs, tech overview, and some sexy unboxing.
What does this product Do?
The Hauppauge HD-PVR, as the name denotes, is the hardware portion of a computer based personal video recorder. The HD-PVR interacts with some sort of software (i.e. SageTV) and will record (encode to H.264) an HD component signal from your cable or set top box. The HD-PVR supports resolutions up to 1080i.
Ok, so I mention this maybe the holy grail of HTPCs in the introduction and this paragraph should explain why! This little box allows access to an HD content available via analog component outputs. This allows for recording of HD sources from an TV provider including cable and satellite. No more wishing that you had an OEM CableCard equipped HTPC to have full HD access. Is it perfect? Of course not, and we will discuss the pros and cons as we move forward with the review.
This is not an analog, combo, or hybrid tuner. All this product will do is capture an analog component (or S-Video) signal from an external video source such as a set top box. The tuner comes with the necessary IR blaster to control the software and should be automatically setup with the software of your choice.
Specifications
Hardware encoder:

H.264 AVCHD video encoder
AC-3 audio encoding
Recording datarate: from 1 to 13.5 Mbits/sec (user selectable)
Recording format: up to 1080i from component video (YCrCb)
Note: the video input format determines the recorded format. For
example, 1080i input records at 1080i, 720P records at 720P, etc.. Any
other format conversions needs to be done with the MediaConvert program
(supplied).

Size:
19.8cm x 17.3cm x 7cm (WxDxH)
Power:
5V @ 2A
Weight:
1lb, 3oz
System Requirements
Processor Requirements (minimum):
Dual core CPU
Graphics with 256MB memory
(or greater)
Note: the playback of high definition H.264 requires a fast CPU and at least 256MB of graphics memory
Sound card
Included with the HD PVR
HD PVR high definition personal video recorder, USB
Remote Control Including batteries
IR Blaster transmitter cable
Component video cable set
Audio cable set
USB cable
5V power supply
Bundled software applications
Arcsoft "TotalMediaExtreme" – for video capture, preview, playback, and authoring and burning your TV recordings onto a Blu-ray DVD compatible disc
Arcsoft "TotalMedia Theater" – a video player so you can play back your TV recordings to your PC screen
Arcsoft "MediaConverter" – to convert your H.264 HD recordings onto other formats
Includes Hauppauge's WinTV scheduler for scheduled TV recordings
Input and outputs
Component video input and loop through output
Optical audio Input and loop through output
Left/ Right RCA audio input and loop through output
Composite video and S-Video inputs (on front panel)
Left/right audio input (on front panel)
IR Blaster output
USB2.0 High speed Device
Pictures
Pictures
| | |
| --- | --- |
| | |
| HD PVR Box | HD PVR Box |
| | |
| --- | --- |
| | |
| Front Of HD PVR | Back Of HD PVR |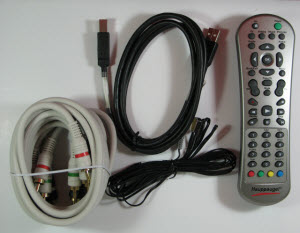 Remote. USB Cable, Component Cables + Blaster
As you can see by the pics it is a small unit that won't win any "best looking gadget" contest but it isn't ugly and should be hidden.
What Software Supports This Fabulous New Hardware?
SageTV – Has full support for the HD PVR. $75
BeyondTV – At the time of this article has beta support. $99
GBPVR – Has full support. Free as in beer.
MediaPortal – At the time of this article has beta support. Free as in beer.
Arscoft Total Media Theater – Is not really a HTPC software package, but comes with the product.
Where do I get the official drivers?
Grab them off of Hauppauge's support site. You will also want to check out shspvr.com for the latest in talk about Hauppauge drivers. Hauppauge works closely with SHS to beta test drivers and the like.
What Is The Picture Quality Like?
There is a certain level of compression and noise that will be introduced in the D/A and A/D conversion and subsequent encoding to H.264. Given the already noticeable compression of HD on cable and satellite, it is fair to say there could be minor picture quality issues.
For testing of the PQ I compared the HD PVR recordings to recordings from my setup below. Ultimately, my goal was to compare the HD PVR recordings to CableCard (essentially QAM) and Digital HDTV broadcasts from another Hauppauge product.
| | |
| --- | --- |
| Main HTPC | WHS Setup |
| Q6600 | E2100 |
| ATI 2600XT | ATI 3450 |
| SageTV 6.5.2 & Vista Media Center | SageTV 6.5.2 |
| CableCard Tuning | HD PVR |
I am very happy to say that the picture quality is virtually indistinguishable from the CableCard recordings. Obviously the recordings will not be the same quality as uncompressed broadcast TV but based on several hours of watching TV it is very close to CableCard recordings.
Processor usage while watching TV will be minimal (5-15%) if you have a video card that has full hardware decode and a modern CPU. The encoding process was a minimal hit on CPU usage of a few percent.
What Is The Channel Lag Like?
Channel lag is going to be present because of the constant encoding (recording) involved. If you have used a blaster based setup in the past, you will notice the channel changing is roughly equivalent. Encoding to H.264 has not slowed this process down.
How Easy Is To Setup?
The setup is not as simple as plugging in a cable and being done with it like a NTSC tuner. However, it isn't to painful. Occasionally people have run into issues with getting blasters not quite aligned right because of the short blast radius (1"). Other then that, plug in the component and audio cables, install the drivers (driver + Hauppauge blaster software), and you are off to the races.
Conclusion
Lets face it, if you want an alternative to buying a Vista Media Center with CableCards, this is your only option. The deal breaker, in my opinion, was going to be the picture quality. However, it came through with flying colors. If you can get past the cost of entry and setup, you will be in the HD HTPC game.
We here at MissingRemote.com have no problem recommending the HD PVR and applaud Hauppauge for moving HTPC technology forward.
Pros

First to market with HD component capture for consumers
Support for SageTV and multiple OSes. (Support for MP and GPBVR)
HD quality does not suffer with H.264 encoding and D-A-D conversions
Includes all cables necessary to make it work.
Stable
AC-3 audio is now supported
Neutral
Included remote is pretty average but functional and easy to hold
Setup isn't as painless as plugging in a cable but given the target market I still give it a neutral rating.
Channel lag isn't terrible but is a little slower then NTSC or CableCard tuners.
Cons

It is not supported by the most popular HTPC software, Vista Media Center (should have W7 support)
Included software package is iffy at best.
MSRP of $250 and on sale for $200 is still expensive for a single tuner product
First gen devices were prone to over heating (since been solved)
Feel free to ask questions in the forum or I also recommend heading on over to the SageTV forum to get more information.