Life With a Plugin, Episode 9: BigScreen Headlines 2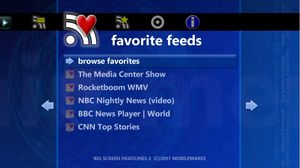 BigScreenGlobal is one of the premier Media Center plugin companies in the world. You'd be hard pressed to find another development company which does as much customization with the MCML abilities, while still keeping things simple & easy enough to use. The expectations are a bit different than a lot of apps, however, since all BigScreenGlobal apps are commercial & cost some money. 
| | |
| --- | --- |
| | |
| Browse Favorite Feeds | Check out your subscribed Feeds of course |
Overview
BigScreen Headlines 2 is a comprehensive RSS reader for news, videos,
photos & more. For those unfamiliar, RSS means "Really Simple
Syndicate," but basically, it's just an easy way to view the latest
content from a number of different websites, without having to deal
with a browser & all the ads that go along with it. So rather than
having to visit a site to see any new postings, you subscribe to a
"feed" and they are sent to you as they come. Saves a lot of time!
So besides the basic RSS news posting (ie, text-based posts),
Headlines 2 can also playback podcasts (ie, Ian Dixon's MediaCenter
Show podcast), videocasts (ie, MSN Soapbox)…basically anything you
can subscribe to Headlines 2 will sort & play it back.
Above & Beyond
Extenders are a pretty big piece of some people's homes which are often
ignored by software developers due to their lack of adoption & the
added effort required. As would be expected from a commercial
application, BigScreen Headlines 2 adds support for Extenders. Through
the configuration tool, you can set what type of device you have, and
limit the type of formats/content which will be allowed. It's a nice
addition if you need it, and saves having to find files only to not be
able to play them back.
 
| | |
| --- | --- |
| | |
| Easy to see feed results | Browse feeds with Video/Audio |
Falling Short
Design & usability wise, there's no shortcomings with Headlines
2. That being said, the only supported RSS Program which it uses to
obtain its feeds is Internet Explorer 7's. This is a dissapointment for
users like myself that live off of Google Reader or Mozilla Firefox, or
any of the numerous, more popular RSS Readers.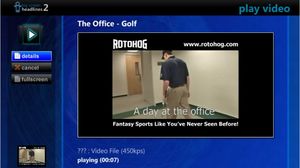 Watch critical video feeds 🙂
Grade: Approved for Everyday Use
For those familiar with BigScreenGlobal applications, it's no surprise
that Headlines 2 is so fun & easy to use. I found myself literally
just browsing the popular top feeds just to continue playing with it.
The interface is absolutely stunning, and I found it a pleasant
addition to the stock MCML interface of Media Center you see with other
plugins. It's very quick, and I found it very simple to use.
Besides the initial annoyance of having to configure a new RSS
reader with all my favorite feeds, the rest of the experience was
fantastic. As Videocasts and Podcasts continue to grow in popularity,
the ability to get to those with your remote is a breathe of fresh air.
That being said, if you find yourself doing most of your RSS reading on
your laptop, you might question the $24.95 asking price for it.
Product Vitals
Website: BigScreenGlobal.com
Creator: Niall Ginsbourg
Price: Free Trial for 30 days, $24.95 full license