DarbeeVision Launches DVP-5000S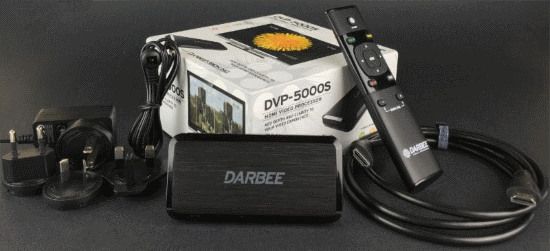 I've never had the chance to really look at DarbeeVision's video processors, but my understanding is that opinion is mixed on whether they produce great or oversharpened/processed images. If you were a fan of the Darblet, you should be happy with the $250 DVP-5000S.
DarbeeVision Launches New Product

DVP-5000S Brings DARBEE Visual Presence to Home Entertainment for All Consumers

DarbeeVision DVP-5000S – A simple image processor in an elegant consumer-friendly design, amplifies the depth, clarity, and realism for video and digital image displays of any kind.

ORANGE, CA– DarbeeVision, Inc., a pioneer in the field of digital image enhancement, has started shipping the DVP-5000S, a new image processing platform for its DARBEE Visual Presence technology — a new consumer device aimed squarely at the mass markets of consumer and video gaming. The DVP-5000S integrates real-time DARBEE Visual Presence video and image processing for enhanced depth, clarity and realism –technology that allows you to enjoy visual entertainment experiences beyond the constraints of content quality or display technology.

DarbeeVision technology has won global recognition for being an image processing enhancement solution that fixes the universal problem of flat images. "It is a fact that no camera has ever captured an image in the same way that we see with our two eyes," states Larry Pace, President, DarbeeVision Inc. "All images are missing disparity depth cues, so every image that has ever been taken cannot appear fully real. By leveraging Paul Darbee's discovery that you can, in fact, embed depth information into images, we have solved the 150-year-old problem of how to make flat images appear as they do in real life. With each new DarbeeVision product and each of our OEM partners' products, we move closer to our goal of bringing DARBEE Visual Presence technology to the entire world."

The DVP-5000S is a sleek black reincarnation of the Darblet, with a look reminiscent of a Star Wars,™ or Star Trek™ device. The simple HDMI video pass-through design makes it simple to set up and simple to use. The video processing algorithms have been upgraded from the Darblet and are identical to DarbeeVision's flagship product, the DVP-5100CIE. The DVP-5000S ships with a new full-sized custom remote control, another upgrade over the Darblet. With omni-directional IR capability, the DVP-5000S can be controlled by IR, from any angle and even when mounted behind a TV. Like its predecessor the DVP-5000 Darblet, the DVP-5000S accepts any HDMI 1.4 video source and outputs an enhanced video stream that makes all video content — standard definition, high definition, upscaled HD to 4K/UHD, IPTV, OTT streaming, video downloads, cable, satellite, and Blu-ray — look so real, you will never want to go back to viewing without it.