D-Link Now Shipping All-in-One Network Video Recorder (DNR-312L)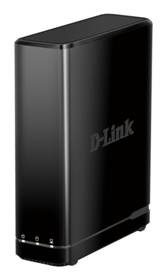 If, like me, you're not really sold on putting everything in The Cloud. Relying on remote storage for all of your security camera footage is a concern so it is nice to see D-Link address this with a local endpoint for its IP surveillance cameras. $350 is a bit pricey, but as a device targeted more towards the small business market that is understandable – hopefully we'll also see cheaper options for those who prefer local storage soon.
PR after the break.
D-Link Now Shipping All-in-One Network Video Recorder

Supporting up to Nine Security Cameras, the D-Link NVR is an Ideal Solution for Small Business Owners Looking to Install or Upgrade a Security System

FOUNTAIN VALLEY, Calif. – Dec. 2, 2014 – Today D-Link announced it is shipping the mydlink® Network Video Recorder with HDMI Output (DNR-312L). Designed with small business owners in mind, the DNR-312L NVR is simple to set up and operate and allows users to keep a close eye on their businesses locally with a mouse and HD monitor, or remotely with a phone, tablet or PC. Users can customize the ideal security solution by mixing and matching up to nine D-Link® network cameras, and can view, record and play back footage from all nine cameras simultaneously.

With plug and play configuration, the DNR-312L automatically finds and records video and audio from D-Link network cameras and can be set to record continuously, on a schedule or based on motion. Its single storage bay accepts a hard drive up to 6TB in size, providing a recording retention period of 30 days or longer. A scheduled back-up function allows one or more camera recordings to be backed up to a USB drive, network storage or an FTP server.

"The DNR-312L NVR is a great solution for restaurants, gas stations, liquor stores, and other small footprint retail locations," said Vance Kozik, director of marketing for IP Surveillance, D-Link Systems, Inc. "The ability to plug the DNR-312L directly into a 1080p monitor and be able to view, play back and export video without the need for a computer makes this NVR an ideal solution for a small business. The 1080p monitor support also enables a store owner or manager to display live video so customers are aware of the store's surveillance without having to dedicate additional resources."

A variety of viewing options exist for the DNR-312L, including web browser, mobile app and the native HDMI port. The graphic user interface look, feel and functionality of the HDMI output is closely matched by the web browser interface for a consistent user experience. Functions include camera search, e-map support and on screen display of date, time, camera name, frame rate, and bandwidth. Additionally, the DNR-312L supports two independent streaming profiles from D-Link network cameras. One stream is high resolution to capture the important details. The second stream is lower resolution and is used for the nine-camera view and for mobile app use. Both streams are simultaneously recorded and available for playback.

More about the DNR-312L:

View, record, play back, export up to nine D-Link network cameras
HDMI output for 1080p monitors
Free mobile app for viewing live and recorded video
Web browser client matches HDMI interface and supports most popular browsers
Continuous, scheduled or motion detection recording
Two USB ports for mouse and optional storage back-up
Pan/tilt/zoom controls for PTZ cameras
E-Map function shows map of cameras with activity icons
Drag and drop camera support for customizing viewing screen
mydlink cloud service included

Pricing & Availability

The DNR-312L is available now for a manufacturer's suggested price of $349.99. D-Link is also offering a special promotion through Dec. 31, 2014 – for more information, visit programs.dlink.com/FreeNVRpromotion.

D-Link's Network Video Recorders and IP surveillance cameras are sold through D-Link's vast network of channel partners, including value-added resellers, solution providers and distributors. For more information about the DNR-312L, visit us.dlink.com/dnr-312l. For more information about all of D-Link's IP surveillance solutions for business, visit ipsurveillance.dlink.com.

About D-Link

D-Link is the global leader in connectivity for home, small business, mid- to large-sized enterprise environments, and service providers. An award-winning designer, developer, and manufacturer, D-Link implements and supports unified network solutions that integrate capabilities in switching, wireless, broadband, storage, IP Surveillance, and cloud-based network management. For more information visit http://us.dlink.com/, or connect with D-Link on LinkedIn (http://www.linkedin.com/company/d-link) and Spiceworks (http://community.spiceworks.com/pages/dlink).