NETGEAR Announces Nighthawk X4 AC2350 "Wave 2" 802.11AC Gigabit Router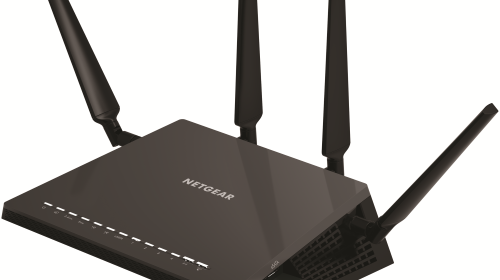 Fresh on the heels of their flagship Nighthawk X6 R8000, NETGEAR is bringing out the Nigthhawk X4 R7500 router. The main differentiator with this four-stream "AC2350" (1733+600Mbps) device is the inclusion of Mutli-user MIMO (MU-MIMO) making it an 802.11AC "Wave 2" device. With four AC streams available the peak theoretical bandwidth on 5GHz rises to 1733Mbps (from 1300Mbps in "Wave 1" devices), but also drops back towards the traditional one-radio-per-frequency design so the total bandwidth available to all devices is lower than with the X6's two 5GHz radios, which explains the difference in branding monikers (AC2350 v. AC3200) and price ($279 v. $299). Like the previous models, NETGEAR is making an effort to differentiate their products against the competition with significant firmware and software value-adds, but in this case there are pretty dramatic deltas at the hardware level as well.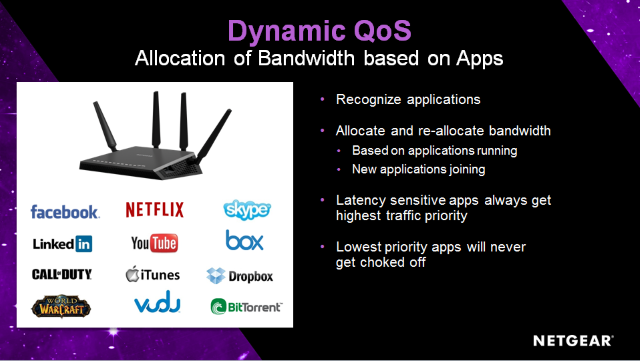 Like all of their recent routers, the Nighthawk X4 will support NEGEAR's excellent PC backup utility ReadySHARE Vault alongside OpenVPN, parental controls, guest network, Genie and a commitment towards open source firmware via myopenrouter.com. They are also introducing a new form of Quality of Service (QoS) called Dynamic QoS, which is designed to recognize activity by application and prioritize traffic based on a profile for how the application works best. I discussed how this works briefly with NETGEAR and it sounds very interesting because of the intelligence that is built into how it works to: know the difference between consumption devices (TV v. tablet), stream type (adaptive v. non-adaptive), and ensure that every app despite priority gets enough bandwidth that it won't get choked off. If this feature works the way it is supposed to, it will be a big step towards making QoS accessible for everyone.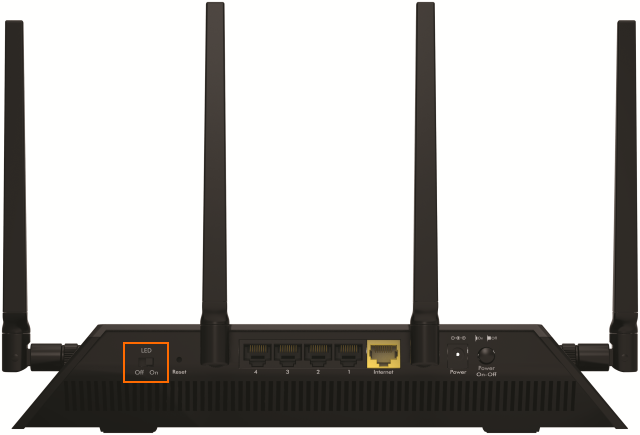 On the hardware side, besides the expected 4+1 Gigabit Ethernet, there are two USB 3.0 and one eSATA ports available which, when coupled with the dual-core 1.4GHz CPU and dedicated 500MHz 802.11AC processor, should net a very respectable 80Mbps (USB 3.0) and 90Mbps (eSATA) read. Also, while we didn't discuss it, there appears to be a switch on the back to Nighthawk X4 which disables the LEDs!
Like the ASUS RT-87U (the only other Wave 2 device out now) the 5GHz band is provided by a Quantenna chipset, but NETGEAR has opted for Qualcomm Snapdragon for the main SoC and a Qualcomm radio for 2.4GHz. This is very interesting because the last few generations of high-end routers were all based around pretty much the same hardware, so this could introduce important differences in performance and power consumption for this class of router. Of course we will have to wait for the reviews to come out to see if that is the case, but it is certainly something to watch for.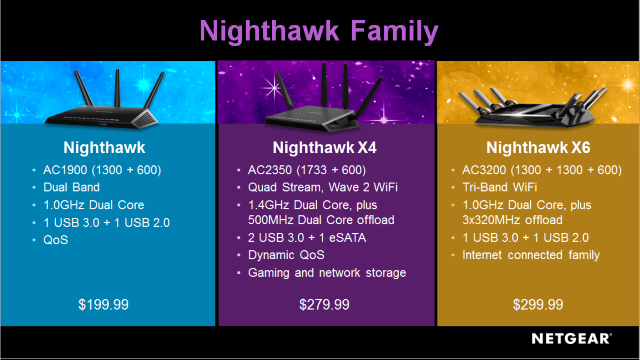 Lastly, although I love being spoiled for choice I think the Nighthawk X6 creates a bit of marketing problem for NETGEAR because they don't have a clear "good, better, best" story for consumers. The answer to the common "what's the best router" question is quite a bit more complicated because the Nighthawk X4 is better (Dynamic QoS, eSATA, higher peak bandwidth, more future proof, faster CPU, etc.) than the X6 in many ways, but costs less. The firmware feature differences may sort themselves out over time (NETGEAR stated that some form of Dynamic QoS will come to the R8000, but I got the feeling that it wouldn't be as complete), but that probably won't help with the checkbox shopper. That said, I think the biggest disappointment with the most recent round of 802.11AC routers is how quickly upward movement on SRP reached $300, and stayed there.