HDBaseT Products Announced at CEDIA 2013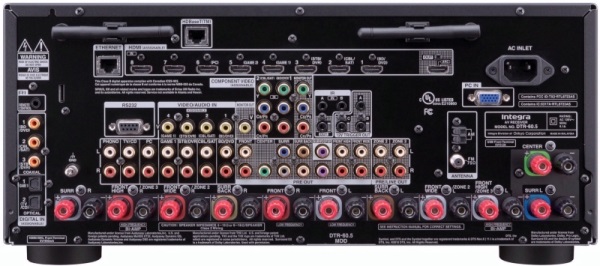 It might seem a little strange at first that the backend of this Integra AVR has two RJ-45 plugs, but it isn't. What we're seeing here is one of the first retail AVR with HDBaseT built in – very slick! The technology is [unfortunately] still relegated mostly to the high-end CI market, but it's great to see this, and an enormous list of other products, being announced at CEDIA 2013. Hopefully we'll continue to see this market grow, and expand closer towards the demanding DIY enthusiast.
Follow the link to see the full breakdown of switches, extenders, transmitters and receivers.
DENVER – September 23, 2013 – a number of HDBaseT Alliance members will unveil their newest HDBaseT-enabled components during the CEDIA EXPO 2013 event this week.

"CEDIA attendees will see an impressive number of diverse HDBaseT-enabled products that will enable them to leverage HDBaseT from end-to-end," said Micha Risling, Marketing Committee Chair, the HDBaseT Alliance. "HDBaseT has become a global digital connectivity standard in just a few short years because of the innovation and commitment of the HDBaseT Alliance members."