Thecus N5550 5-Bay NAS Server and XBMC Home Theater Computer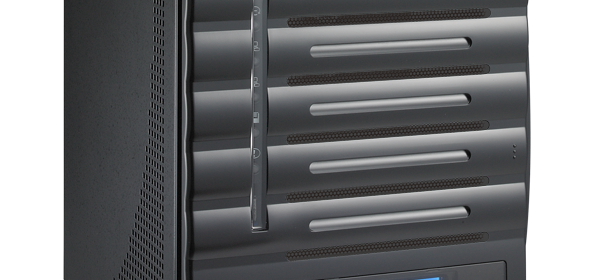 NAS (Network Attached Storage) units have been growing in popularity over the years, due to their ease of use in providing a lot of storage in a compact enclosure, while making redundancy a simple matter of replacing drives when warned. With the HTPC continuing to evolve however, where does the NAS stand in supporting or replacing your traditional server box filled with your media? The N5550 from Thecus has been out for almost two years now, but the modifications made to this affordable five-bay NAS box allow us to pose the question whether a NAS can truly replace your need for a traditional HTPC. By having simple integration with XBMC media center software the N5550 can offer the unique hybrid opportunity of being both your NAS and your media center in a single unit.
DEVICE
As the Thecus N5550 is not new, there are plenty of server-based review websites which cover in detail the speeds, power and data transfer speeds of the system's NAS functionality. So instead, I'll be focusing this review on the full time HTPC-usage capabilities of the box. However, I did want to cover briefly the specifications of the box which is basically a full powered system:
Item

Spec

Processor

Intel® Atom™ Processor D2550 (1.86GHz Dual Core)

System Memory

2GB DDR3

LAN Interface

RJ-45×2: 10/100/1000 BASE-TX Auto MDI/MDI-X

WOL supported

USB Interface

USB 2.0 host port x4 (back x4)

USB 3.0 host port x1 (front x1)

LCM Module

LCM display

4 buttons (ENTER, ESC, UP, DOWN)

SATA DOM

1GB

HDMI Output

HDMI port (back x1)

VGA Output

VGA port (back x1)

Audio

MIC input, Line input, Audio output

Disk Interface

5 x SATA for internal

1 x eSATA for external

Power Supply

200W Power Supply

USB UPS

Supported

Thermal/Fan control

Thermal sensor on processor temperature

System FAN speed controlled by temperature

System Clock

Battery-backed up system clock

Power Management

Auto power on after shutdown due to power loss

Buzzer

Adjustable frequency alarm

Buttons

Power button

LCM button

Environment

Temperature: 5°C to 40°C

Humidity: 0 ~ 80 % R.H. (Non-condensing)

Chassis

Tower Metal Chassis

Dimensions (HxWxD)

230 x 190 x 240 (mm)

Weight

7.2(Kgs)/15.87(lb)

Certificates

CE/FCC/C-Tick/VCCI/BSMI

RoHS

WEEE

VMware, Citrix
As you noticed above, this is not the lightest system available, weighing a husky 15 lbs–without any drives installed; with five drives in the unit pushing the total to over 20 lbs. That being said, it's a minor quibble as most people will not be moving the unit around.
From the back, the N5550 looks exactly like what it is–a full blown computer, with all the ports you would expect: audio, HDMI, USB, VGA, LAN, etc. The unit comes apart with three handscrews which are tethered to the chassis, so they can't get lost–a nice touch to make sure it all stays in one piece, and the system is readily accessible. You can easily access and upgrade the memory if you choose.
The front door is made of plastic, with translucent pieces over the power status and the LCD (LCM) screen which rotates the status of the drives, server, and other relevant information. The LCM uses white text in front of a blue background. After doing some digging, there's no way to expose media information (such as "what's playing" in XBMC) out of the box, and in a dark environment you will want to mask the light with some electrical tape to not be a distraction. Hopefully these are both items Thecus can address in future firmwares, or with the given root access something that an enterprising programmer would be able to achieve and share with others how to accomplish.
There is a lock/key system integrated into the N5550, but that is only pertinent to the hard drives–the door has no security built in, and anyone would have access to the power and reset buttons.
The N5550 is cooled by a rear exhausting 120mm fan, and the temperatures of the system and hard drives are always being monitored by the box. It seems to do an acceptable job during my testing of it, and the fan has a low level of noise in a standard bedroom with no other equipment running.

EXPERIENCE
As mentioned before, I won't be covering how to setup the RAID and hardware configurations–which are plentiful–of the Thecus N5550, instead I'll focus on the ability to use the system as a full blown XBMC server and media center. To start, there's a very easy to follow guide from Thecus (http://www.thecus.com/download/howtoguide/HowTo_XBMC.pdf) – all that's needed to start is two plugins which are easily available and easy to install through the very handy admin console. The system is compatible with a ported Linux version of XBMC called Frodo (12.3).
For configuration, I connected a standard wireless keyboard and mouse, as well as an RC6 Media Center remote control receiver. XBMC is also configured to be controlled via an Apple or Android smart phone via the XBMC Remote app as well if you prefer. Thecus hasn't announced it yet, but I was told they will soon be releasing a remote control to work with their system–no word on pricing and availability yet, but you can be sure we'll review it when it's out.
When the system boots up with the HDMI port connected, it takes you to XBMC directly. Note that startup time is not quick–but the catch here is that NAS boxes are designed to always be running, so that fact is less relevant.
Once up and running, I was impressed at how responsive the system was. Menus and transitions occurred quickly, although there was an occasional hiccup when playing back content in the background and navigating through some menus. A variety of file types were tested as well, attempting to push the N5550 to its limits, including a 1080p MPEG4 file with DTS audio, and I did not encounter any sync or stutter issues.
For those that rip their Blu-rays as raw BDMV or ISO files however, there's no simple way I found to configure playback through this XBMC. You can remux the files into another format that would be compatible which strip the copy protection and make the files detectable, but be prepared to put a bit of effort into it.
After testing a variety of video, music, photos, I was unable to find anything besides the Blu-ray files which would not play, and most impressive was the responsiveness of the system.
CONCLUSION
When Kyle first mentioned to me that I should try this review around configuring and using the Thecus N5550 as an HTPC box, I was skeptical. I remembered what a hassle it was in the past to try to configure XBMC on NAS boxes and thought it wouldn't be worthwhile. You can color me convinced now thanks to Thecus. With a retail of $599 (available at Amazon for $435) the N550 is priced well below that of the competition and offers comparable server features and performance based on what I've seen and read. The ease at which it can serve the dual function of being both an HTPC and a redundant NAS server not only is convenient but will also save on electricity, as the Atom-based processor was consuming significantly less power than my Intel Core i3 full blown HTPC. The XBMC interface was a breeze to install, and the performance was as good as my HTPC running Windows Media Center. With five drives available to arrange in a variety of storage configurations, the N5550 is a great option if you have the need for that much storage without the hassle of building your own box out.
Pros:
Low power system

Affordable price

Simple integration of XBMC

Dual function for the price of 1
Cons:
No Blu-ray (BDMV) folder support

Front door doesn't lock closed

Can't turn off LCM display (nor configure it)
Thanks to Thecus for providing the review sample.