NETGEAR EX6100 – AC750 802.11AC Wireless Extender and Bridge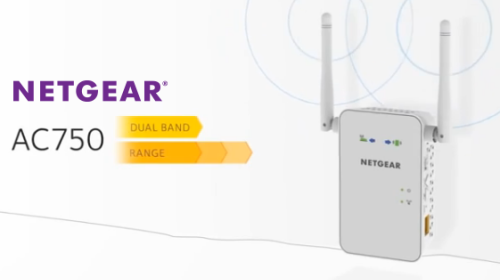 Even in a mid-sized home, it is quite common to end up with a few "dead spots" where the main Wi-Fi router just does not provide enough signal to make the network work smoothly. Until recently–if your network is based on 802.11AC–the only way to address this, and take advantage of AC's performance was by adding another full-on router acting as a media bridge or repeater. While this works, it is a costly way to address the problem, and one where frankly a specialized device might be better suited. Thankfully as 802.11AC has matured the device ecosystem has as well, and today we have the $90 (£65) NETGEAR EX6100 "AC750" Wi-Fi Range Extender / Media Bridge available for testing.
Device
Like all of the NETGEAR products I've had experience with the EX6100 is packaged great, and ready for retail. I will complain here, as I have with other wireless products, about the way that bandwidth is marketed for Wi-Fi devices. Just as AC1900 and AC1750 are really the sum of each radio's bandwidth (2.4GHz + 5GHz) the "AC750" is actually 433MHz (5GHz AC) + 300MHz (2.4GHz N). How limiting this is will depend on the intended application and other hardware in the environment. That said, I can't fault NETGEAR specifically for this as it is really an industry issue – one that I wish were dealt with in a more straightforward way.
The NETGEAR EX6100 is intended to be installed directly in a receptacle. The width could cause installation issues in a side-by-side outlet if another wide device is fitted next to it (I had to move our doorbell in one location J). Only three watts are required to power the device when not connecting Ethernet, and adding that to the mix only requires 0.3 watts more. Unfortunately, the antennas are not removable and not very long so the EX6100 might not be perfect for bridging at the outer edges of your network.
Fortunately the NETGEAR EX6100 provides a simple mechanism to communicate how good the connection is back to the router via a green/orange/red LED on the front. It also demonstrates the quality of connection to Wi-Fi devices attached to it using the LED next to it.
Use
Setup was very simple. Plug in the NETGEAR EX6100, connect to one of its "EX6100_NETGEAR_X" networks, and step through the wizard to connect to the router. It is important to change the names (SSID) of the repeated networks like the tool recommends, or you may see some connection problems with wireless devices as you move around. There are not many settings to mess with otherwise in the administration pages, but given the device's purpose that is not unexpected. There is one notable feature hidden away however – Fast Lane.
Enabling Fast Lane effectively changes the NETGEAR EX6100 from a repeater, where one radio is used (per frequency) to broker traffic between devices and the main router, into a media bridge + access point. This allows the full bandwidth of each radio to be dedicated to a specific job, so you can funnel all the traffic between the EX6100 and the router over 5GHz and use 2.4GHz to provide greater network coverage. Before examining the differences in performance, we should discuss why it is critical to use a different SSID for the extended network(s).
In either mode (repeater/bridge+ap) NETGEAR EX6100 remaps the MAC address of devices that connect through it to a "virtual MAC." This is very different from other repeaters and bridges that I have looked at before. For example, in repeater mode the ASUS RT-AC66U channels all traffic through its MAC which hides the source MAC from the router and therefore disables any functionality that requires the MAC (e.g. static DHCP), where the RT-AC66U, Linksys WUMC710, and NETGEAR R7000 pass the real MAC in bridge mode. I have never been able to determine exactly why both of these routers experienced issues (R7000 mild, RT-AC66U unusable) in bridge mode, but I now suspect that passing the MAC directly may have something to do with it because despite several weeks of testing with the NETGEAR EX6100 no stability issues were experienced with any of the devices connecting through it when running in the recommended configuration. It just worked.
When using the same SSID as the main network on the NETGEAR EX6100, I did see some issues where a device would lose connection when moving from a location where the EX6100 had a stronger signal than the main router. Reconnecting Wi-Fi always fixed the issue, so I suspect that the underlying cause was the use of two MACs on the same network as it completely disappeared after changing the SSID.
I ran across an issue with the NETGEAR EX6100 where it would drop to 100Mbps when a long cable was used (14' or less would connect at 1Gbps, but 25'+ would drop to 100Mbps) so I was not able to perform the same distance based testing as in the other network device reviews. I did not experience any significant differences in performance within 14' of the endpoint so I used data from the 30' location (conveniently located next to the file server). What is most notable in the graph above is how big an impact Fast Lane has on performance as a bridge versus as a repeater.
Conclusion
The most outstanding thing about the NETGEAR EX6100 is that it just works. With the flexibility to choose from several configurations to meet your specific networking needs, easy setup, low power consumption, stability, and a good price it's hard not to like the NETGEAR EX6100. Those demanding more bandwidth than the AC750 (433Mbps + 300Mbps) device has available may want to step up to the faster and larger EX6200, but those looking for a small and simple 802.11AC Wi-Fi extender with good features and performance the NETGEAR EX6100 is an excellent option.
Pro:
Stability
Price
Ease of use
Con:
Antennas are small and can't be replaced
Wired network drops to 100Mbps when using long (25') Ethernet cables
Thanks to NETGEAR for providing the review sample.