AVerMedia AVerTV USB HD DVR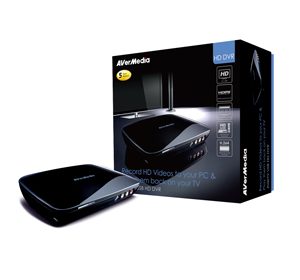 We spend a good deal of time covering digital cable tuners (DCT) because they are popular and quite possibly the easiest way to get premium content into the home theater PC (HTPC). They do have some downsides, however. For example, if the content the DCT records is copy-protected, it can only be played back within Windows Media Center and can't be analyzed for automated commercial skipping purposes. There is also no support for utilizing a service provider's video on demand (VOD) offerings.
There is an answer to those two problems when using an audio-video (AV) capture solution. Today, we'll be examining the AVerMedia AVerTV USB HD DVR which, like the Hauppauge Colossus we reviewed, is an AV capture solution that can handle both SD and HD video and can be utilized not just to work with HTPC DVR software, but also to capture any type of video for applications such as recording video gameplay, video stored on a camcorder or VHS tape, etc.
Specifications
Inputs

Video: Component, Composite, S-Video
Audio: Analog
Infrared: IR Sensor

Outputs

Video: Component, HDMI (only for playback of recorded files)
Audio: Analog
Infrared: IR Blaster (10 ft.)

Encoder

Video Coding: H.264 up to 13 mbps VBR and 20 mbps CBR
Video Input Formats: 1080i, 720p, 480i
Audio Coding: MPEG-1, Layer II up to 384 kbps

System Requirements

Operating System: Windows 7, Vista or XP (32-bit and 64-bit)
Motherboard: USB 2.0 port
GPU: 256MB
CPU: Intel Core 2 Duo 2.4GHz or AMD Athlon 64 X2 2.8GHz
Memory: 1GB

Physical

Dimensions: 8" x 5.5" x 1.75"
Test System
| | |
| --- | --- |
| Motherboard | Intel DH67BL |
| CPU | Intel Core i5-2500k |
| Memory | 8GB (2x4GB) Patriot Signature DDR3 PC3-12800 |
| GPU | Intel Core i5-2500k IPG |
| Hard Drive | Western Digital Caviar Blue 16MB Cache 7200RPM |
| Optical Drive | Samsung 22X DVDRW SATA |
| Power Supply | PC Power & Cooling Silencer 750W 80Plus |
| Chassis | Cooler Master SGC-2000-KKN1-GP Storm Scout |
| Operating System | Windows 7 Ultimate 64-bit |
| Cable Set Top Box (STB) | Scientific Atlanta Explorer 4240HDC |
| Cable Provider | Cox Cable, South San Diego County |
Packaging and Hardware
The AVerMedia AVerTV USB HD DVR is neatly boxed and well protected in its packaging. The box itself conveys a sense of quality and the packaging is mostly recyclable save for some protective plastic.
The following items are included:
AVerMedia AVerTV USB HD DVR (Qty. 1)
Component Video /Analog Audio Cable (Qty. 1)
IR Blaster (Qty. 1)
AC-DC Power Adapter (Qty. 1)
USB 2.0 Cable (Qty. 1)
CD Containing Drivers and ArcSoft TotalMedia Extreme 2.0 (TotalMedia Theatre 3, MediaConverter 2.5 and TotalMedia Studio 3) (Qty. 1)
Installation Guide (Qty. 1)
After the top of the box has been lifted, we are presented with the AVerTV USB HD DVR covered with a protective film of plastic. Once removed, we can see it is constructed of a confidence-inspiring gauge of gloss-black plastic. Simply put, the chassis is handsome and AVerMedia paid attention to aesthetics which is excellent because the AVerTV USB HD DVR could be placed out in the open. If there's one thing that we could change about the design, we would place a removable cover over the front S-Video, composite and analog audio inputs to complete the sleek look.
In addition to the connectors on the front, there is also an infrared (IR) sensor used for learning IR commands to control a set-top box and triple-LED status indicator showing capture and USB connection status. We found the LED status bar to give a pleasant glow that was not overly bright. In operation the LEDs present an amber color when the PC is off, a blue color when the PC is on and has initiated a connection to the AVerTV USB HD DVR and a blinking red color when capturing video. Unfortunately, the capture LED only seemed to operate when using the included TotalMedia Studio.
Moving to the rear, we find component video and analog audio inputs which connect to the capture source, component video and analog outputs which allow real-time pass-through of the capture source, an HDMI output to allow playback of captured video, an IR blaster output to control a set-top box, a USB 2.0 port that connects to the PC and a DC power input. We should stress that the HDMI output can only be used for playing back captured video using the included TotalMedia Theatre 3 application. This seems to be of fairly little value since the capture video can be played back on the PC anyway so we're not sure why this wasn't turned into an HDMI input instead or even eliminated altogether.
So after going through all of these connections, do you see anything missing? We do. Unlike the Hauppauge Colossus, there is no capability to accept a digital audio input so it is impossible to capture Dolby Digital (AC-3) soundtracks. To be fair, AVerMedia never promised this feature, but it certainly should be noted as many view AC-3 capability to be required for their HDTV viewing.
Performance and Usage
All commentary regarding the AVerMedia AVerTV in this review is based on the performance and feature set offered by the v1.0.x.21 driver and v1.0.0.7 Windows 7 Media Center plugin module unless otherwise noted.
General Video Capture
The AVerMedia AVerTV USB HD DVR accepts video (1080i, 720p, NTSC) and analog audio on the inputs listed in the specifications table above and encodes video using standard H.264 (High Profile 4.0 with HD video) while analog audio is encoded using MPEG-1, Layer II.
The AVerTV also outputs the received video and audio on the component and analog audio outputs as they were received. There is no perceptible lag using the outputs so this feature is useful if the video being captured needs to be monitored in real-time. Gaming is a perfect application requiring the output connector use. Another use case would be when access to a STB is desired for configuration purposes or access to video on demand services.
The bundled TotalMedia Extreme provides a capture module which is extremely straightforward and easy to use allowing configuration of the video input, audio and video bit rates and saved file format. Once video is captured, it can be edited within the included ArcSoft TotalMedia Studio 3. In addition, TotalMedia Studio offers functionality such as disc authoring and slideshow creation. All told, the AVerMedia AVerTV USB HD DVR offers a complete solution for anyone seeking to digitize analog sources or liberate content from some other type of device.
Audio/Video Quality
Using the default settings (constant bitrate, 4666 Mbps), we found video quality lacking. High motion and scene changes were particularly degraded. Adjusting the bit rate setting to a variable 12 Mbps improved the quality substantially. To illustrate the quality of the AVerTV USB HD DVR for typical HD video capture, we attempted to capture nearly identical frame samples from a Ceton InfiniTV 4 recording and the AVerTV.
The Ceton InfiniTV 4 captures the video exactly as it was sent from the cable provider while the AVerTV must accept the video once it has been decoded by the cable provider STB and then re-encode the video so it is operating at a disadvantage and can never be as good as the InfiniTV 4 recording. The best we can hope for is that we don't notice the degradation.
For the video samples above, there is little, if any, detectable degradation. Let's take a look at something a little more challenging.
The quick moving scene presents a bit of a challenge for the AVerTV and we can notice the degradation even at the improved bit rate. It is difficult to conclude that this is a direct result of the AVerTV encoding as it can only be as good as the STB source video it is fed. For most viewers, the AVerTV video quality should be sufficient so long as a higher bit rate than the default is chosen. For critical viewers watching high-motion content on large screens, the degradation in quality should be considered.
On the audio side, obviously, the AVerTV USB HD DVR only accepts analog audio so users demanding Dolby Digital surround sound may regard the AVerTV a non-starter. With stereo audio, we could find no aberrations in quality nor could we detect and audio-video synchronization issues.
Windows 7 Media Center
When AVerMedia began selling the AVerTV USB HD DVR, there was no support for third-party DVR software. DVBLogic did come out with a way to integrate the product into Windows Media Center. However, AVerMedia now provides a Windows 7 Media Center plug-in.
With the plug-in installed, we found the setup extremely intuitive and a breeze. When running 7MC TV signal setup, the AVerTV is detected as a Digital Cable tuner. As part of the process, the STB IR codes can be configured and the appropriate connector inputs selected. Once configured, the audio and video bit rate can easily be adjusted from the plug-in.
AVerTV USB HD DVR users will need to be satisfied with using the internal IR blaster because there is no capability to utilize an external blaster or initiate Firewire channel changes.
Once the configuration procedure was complete, testing commenced. Twenty recordings were scheduled over a period of one week with the system allowed to sleep between recordings and a 24-hour recording marathon was undertaken. The cable STB was allowed to supply the native source resolution of each program to the AVerTV component video and analog audio inputs. While not every piece of every recording was studied, all recordings were examined in at least five intervals from beginning to end; at no time did any recordings fail or show any anomalies.
Recordings made with the AVerTV USB HD DVR were all free of the "Copy Protected" status on channels that are typically copy-protected when utilizing the InfiniTV Digital Cable Tuner (DCT). This is of great benefit to anyone looking to use automated commercial skip software or archive recordings for playback on multiple HTPCs and devices other than the recording PC.
Because the AVerTV USB HD DVR is a capture device and relies on a STB and IR control, channel changes are a bit longer than what can be achieved using a DCT. We measured anywhere between seven and ten seconds for a channel change with the AVerTV while a Ceton InfiniTV 4 clocks in around four to five seconds.
It should be noted that for SD content to be encoded properly, the STB aspect ratio for SD content had to be configured for "stretch" mode. This can present somewhat of a problem if the STB is also viewed through the AVerTV outputs because SD video will be stretched on the display. We expect that this is not too much of a concern now that we are well into the HD era.
Power
Power usage of the system was measured at the wall using a P3 International P4460 Kill A Watt power meter. Power usage is almost identical to what we found with the Hauppauge Colossus. It is a bit disappointing that the AVerTV USB HD DVR draws almost the same amount of power when the PC is on whether it is recording or not.
| State | Power Draw (watts) |
| --- | --- |
| Idle, PC Off | 0.6 |
| Idle, PC On | 6.5 |
| Recording SD (480i) | 7.3 |
| Recording HD (720p/1080i) | 8.3 |
Conclusion
The AVerTV USB HD DVR is a sleek-looking piece of hardware that exudes quality upon the initial un-boxing. AVerMedia backs up that feeling of quality with a 5-year warranty—a length uncommon with most consumer electronics.
For general video capture, the AVerTV USB HD DVR performs well in most cases and offers a compelling value to anyone looking to record video gameplay or liberate video content from VHS, an old DVR or other source. Audio and video quality are both good provided the default out-of-the-box bit rate settings are adjusted upwards and viewers are not too critical of high-motion encoding performance. The inclusion of ArcSoft's TotalMedia Extreme 2.0 will be welcome to anyone desiring general video capture features and makes the capture process quick and easy. For users that don't already have Blu-ray playback software, TotalMedia Theatre 3 is an additional bonus.
7MC users will find AVerMedia's plug-in makes the setup simple. We also had no issues with stability or recording errors. The biggest killer for some users is the lack of ability to capture Dolby Digital audio surround sound. Users desiring Firewire channel changes must look elsewhere.Unfortunately, there is no known support for other third-party DVR software platforms.
For purely HTPC use, the asking price of the AVerTV is quite a bit more than a typical DCT. A single AVerTV retails for $205 while the upcoming dual-tuner Hauppauge WinT-DCR-2650 DCT will retail for only $149. There is also generally a fee to be paid for renting a STB as well which is more expensive than the cost of a CableCARD rental. Of course, the AVerTV brings its own value to the table with its ability to capture any video from many different sources including satellite TV providers and provide DRM-free recordings. There is certainly an HTPC-only category of user though who will not use the capture functionality so it would be ideal if there were a less expensive version of the AVerTV that did not bundle ArcSoft TotalMedia Extreme.
Finally, let's take a moment to compare to the Hauppauge Colossus, a competing capture solution that retails for $159 and offers a bit different mix of features. It doesn't offer software capable of Blu-ray disc playback, but it does capture Dolby Digital surround. It is also an internal card which may be either a pro or a con. We found the quality of encoding in the Colossus to be a bit better, however, the stability of the Colossus driver was a bit in question when using the optical audio input. While the Colossus worked with SageTV, it wasn't stable in our experience so this is currently a bit of a moot point. The Colossus offered more flexibility in allowing external blasters and Firewire channel changing although we preferred the ease of configuration and use of the AVerTV. Depending on the need, either product has its place.
Pros
Recordings are free of DRM
Gives HTPC users flexibility in choice of programming provider
Ability to capture HD video from a variety of sources such as video gameplay and video recordings
Excellent 7MC plug-in and integration
External option for small form factor PC use
5-year warranty
Cons
No box-only package for HTPC users
HDMI output option limited to captured file output
No ability to capture Dolby Digital soundtracks
No option for using external blaster or Firewire
Quality is degraded from original video with high-motion scenes
The AVerTV USB HD DVR can be purchased from Amazon or Newegg.
Thanks to AVerMedia for providing the AVerTV USB HD DVR review sample.