Roku TV Smart TV Platform Shipping Soon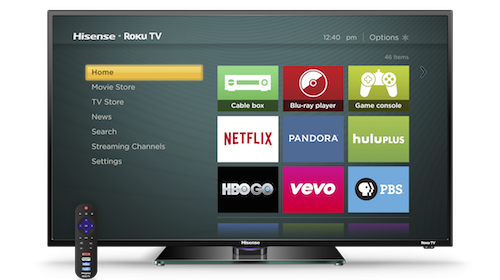 There are a lot of reasons to like Roku for its collection of content (aka Channels), simplicity, or [my favorite feature] the unified search, but would rather have the experience built into your Smart TV it looks like Hisense and TCL will be shipping models very soon that solve this problem for you.
Just like our Roku players, Roku TV offers an exceptional streaming experience filled with endless entertainment choices. But we didn't just stick a Roku player inside the TV. We enhanced the Roku operating system to power the entire TV experience. That means we've applied our philosophy of simple and powerful across the entire TV – from the home screen to the remote control to picture settings. Combining the Roku OS with our partners expertise in TV hardware design, manufacturing and scale, we're thrilled to deliver the best Smart TV in the market.

…

TCL and Hisense continue to climb in popularity among consumers, as the world's third and fourth best selling TV brands, respectively. They are quickly establishing themselves as leaders in the U.S.

Hisense Roku TVs will be available in 40-inch, 48-inch, 50-inch and 55-inch models from major national retailers beginning in late September.

TCL Roku TVs are available for pre-order now from Amazon.com in 32-inch, 40-inch, 48-inch and 55-inch models. TCL Roku TVs will be available through major national retailers in the coming weeks.