Ecobee + electrical box = problem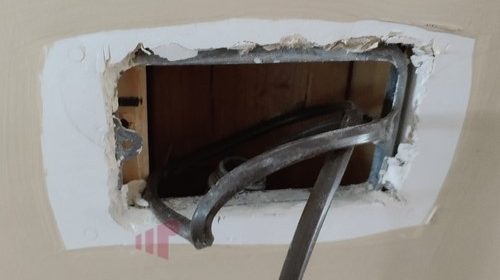 Having recently moved into a new[ish] house, the process of installing some "smart" gadgets has begun. The list is long, but with a couple decidedly unsmart thermostats present it was important to get that sorted ASAP. There are a few smart thermostats available; each with their own plus/minus. For me the most important feature was a strong multi-sensor approach to temperature management. Which is the main reason I ended up going with a couple Ecobee 3s. As expected in a modern house, the basic installation was really quick. Although I did go off-script after discovering that while the original thermostats didn't use the "C", the low voltage wire bundle had a free wire, so it was really easy to use it and skip their power extender kit. Unfortunately I hit a major snag when it was time to close everything up – with the Ecobee lacking any sort of electrical box mount.
I was able to find a couple different approaches on the internet, but none that I was really happy with. So I decided to make a mounting plate.
It would have been more resilient to use some 1/8" plywood because it is stronger than the pressboard I went with, but that was what I had on hand J. Using an electrical box cover as a rough template, it was straightforward to shape out a bracket that would fit into the horizontal hole where the old thermostat was mounted. Once in place it was simple to attach the Ecobee and get the flush, finished look I was going for.
The really curious thing, is that Ecobee does not provide something like this in the box. I would expect that the majority of their sales are to people who will replace an existing thermostat. Seems like a no brainer to me.